Let's face it.
Aging isn't always fun.
As much as we ladies don't like to admit it, getting lines and wrinkles is all part of the aging process.
As we mature, we begin to notice other things too…graying hair, jiggly skin, puffy eyes, and forgetfulness.
But here's the deal — there's not a darn way to stop it.
Sure, plastic surgery is always an option to improve the body's exterior but the reality is that the clock's still ticking.
A lot of women today have stopped complaining about the changes they see in their bodies and started embracing them.
As a matter of fact, one woman by the name of Donnalou Stevens is making fun of growing old in a hilarious song.
She nails it
In a video that's now been viewed more than 17 million times, Stevens sings funny lyrics to a song called "Older Ladies."
When listening to it, you might find yourself cringing from time to time but because it's spot-on, you also have to laugh.
A bunch of country gals
This video starts with a group of women dressed up like they're from the country.
While they're not old per se, you can tell they're either nearing or have already reached maturity.
Telling it like it is
The first verse Stevens sings goes like this, "Well I ain't 16, not a beauty queen. And my eyes are bagging, and my skin is sagging. If that's the reason you don't love me then maybe that's not love."
She has a good point.
She has more to say
"Well I aint' twenty either and I don't care neither. And my hair is gray and I like it that way. And if that's the reason you don't love me then maybe that's not love."
We adore these women.
They're having a blast
Whether these ladies are dolled up as country gals or dressed to the nines in pageant gowns, they keep smiling.
Wouldn't it be nice if all women felt this way about growing older? After all, the signs of aging are a gift, not a curse.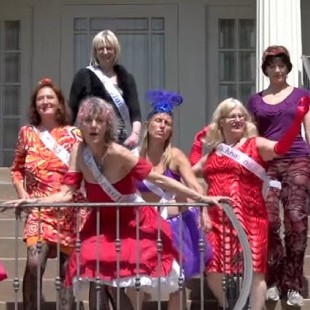 The song continues
The lyrics of this song just keep getting better.
"Well if you don't think I rock then we aren't going to roll. If you don't think I hung the moon, my hot just turned to cold. If you want a younger model, I wish you well sweet pea."
Embracing age
Wow…talk about empowerment.
These women are proud of every line and wrinkle and here to tell the world that if their men don't like it, they can move on down the road. What an awesome attitude.
They're proud of their jiggle
At one point, these women lift their skirts just slightly to show off their gams.
That's when the words turn to, "I got cellulite and achin' feet. And my thighs kind of jiggle when I giggle or wiggle. And if that's the reason that you don't love me then maybe that's not love at all."
Oh my gosh.
This is a hoot.
Perhaps the funniest part of the video
When you see one of the women trying to suck fat out of her stomach using a vacuum cleaner hose, get ready to laugh.
The lyrics go on with, "My tummy ain't tucked or lipo-sucked. It's a little pouchy but I still Hoochy Koochy."
And as you'd expect, it finishes with "And if that's the reason that you don't love me then maybe that's not love at all."
Funny but powerful words
At one point, all the ladies don bathing suits.
The words Stevens sing next are funny but powerful.
"See I'm no longer desperate. I'll only have a man if he has the smarts to see how hot that I still am."
Accepting yourself
While this video is a riot, it makes a great point.
Regardless of what a woman looks like on the outside, she's still incredibly beautiful on the inside.
For women everywhere who question their self-worth, this video is worth watching.
Thank you, Donnalou Stevens…we needed that.
As the song says, "Older ladies are divine."
Watch the video below to hear the hilarious lyrics for yourself. It just might become your next theme song!
Please SHARE this with your friends and family.