Most people, whether they are good or bad at it, like to sing.
This is especially true for 77-year-old Deanna Garvin, and luckily, she has a lovely voice.
Deanna was visiting her local Cincinnati Goodwill store when she found a working karaoke machine.
Deanna, whose own machine had broken from so much use, decided to try it out.
She put on a show for her fellow shoppers as she belted out "He's Got the Whole World in His Hands", a well-known church song.
Deanna was mid-performance when one of the other shoppers decided to pull out his camera and record the moment.
The man, John Schuerfranz, filmed Deanna as she sang and danced to the tune.
John can even be heard saying that he thought the video would go viral; and indeed it did!
The video has been viewed hundreds of thousands of times and was even picked up by multiple national news channels.
Many of Deanna's local Cincinnati neighbors already know she can sing as, before the pandemic, she would visit local daycares and nursing homes and sing to the people there.
When asked if she had her own karaoke machine, Deanna said that she "wore two of them out going to the nursing homes."
On her second visit to the Goodwill, Deanna was met by a few local newscasters who wanted to join her in a song.
"I've never had this much attention in my life," the woman said, surrounded by cameras and her new adoring fans, "I might get used to this after a while!"
Deanna's son and daughter were in the store with her on that day.
When asked about where the elderly woman got so much energy, her son told WCPO 9 that he didn't know but that, "if we could figure it out, we would bottle it."
Deanna wanted to buy the machine that brought her all this attention but it had already sold.
It turns out, however, that the person who bought the machine actually bought it for her!
Now, with her new karaoke machine and Covid protocols beginning to relax, Deanna is excited to get back out to the nursing homes to continue singing with, and for, her peers.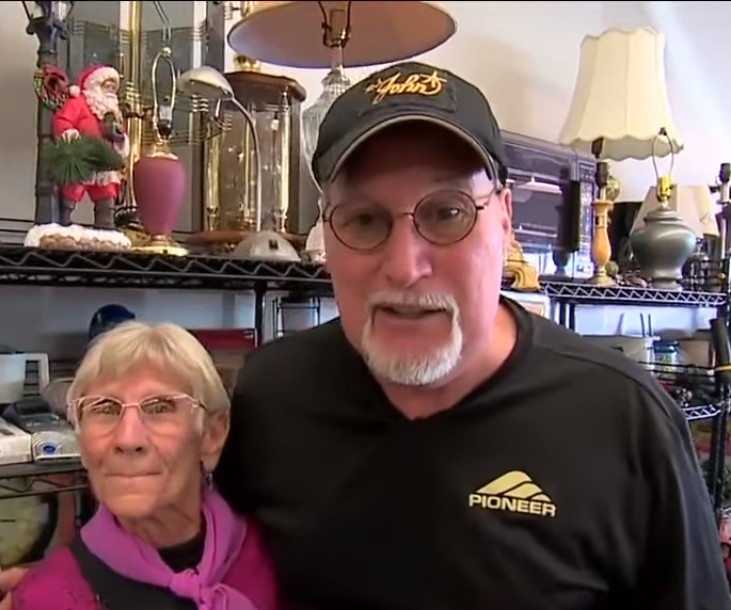 Her favorite songs are usually Christian church songs, and always ones that have an up-tempo beat.
Along with singing to the music, Deanna also likes to dance along to the tunes and has certainly learned a few good moves over the years.
In her original video you can see the woman swaying to the music and punching the air with gumption at certain moments in the song.
She told WLWT:
"Without him, I don't think I could do all this."
Some people tend to think that growing older means you have to slow down a bit, but Deanna proves that that is not at all true.
She has so much life and vigor and is such an inspiring lady that we could all stand to learn a thing or two from her.
If you are young at heart, nothing can stop you.
Listen to Deanna sing her heart out in both of the videos below!
Please SHARE this with your friends and family.
Megan Bennett is a contributor at SBLY Media.