Most of the time, our siblings are the closest people we have besides our parents.
That's why it's much more special when you accomplish something with them.
This sibling ice skating duo from Great Britain nails this routine, it's like they're the same person!
You don't want to miss it.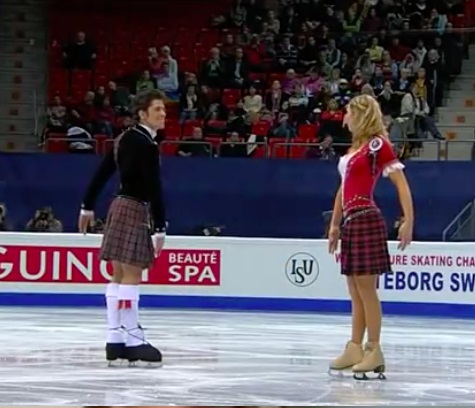 Watch as these siblings showcase their talent on the ice.
Their synchronicity is beautiful to see.
Sinead and John Kerr are siblings from Great Britain, and they're also world-renowned ice skaters.
In this amazing Scottish dance routine, they show us why they deserve to be with the best in the world.
Wearing traditional Scottish kilts and with the sound of mellow bagpipes, the siblings start their routine.
They get right to it, wasting no time.
The display they put on from the start is magical!
Jumping, spinning, and contorting their bodies, the siblings put on a show that stunned spectators.
The routine starts a little mellow until the video hits 1:20; the music speeds up, and they pick it up a notch.
They defy gravity as they pull off stunts that most ice skaters only dream about.
At one point, they're swinging so low to the ground it looks like Sinead's head is inches from bouncing off of the ice.
The precision in the maneuvers is remarkable, she swings upside down with grace.
They've clearly practiced together for years, they don't miss a single beat during the whole performance.
The sibling duo puts on a miraculous display of epic talent, and the crowd can't get enough of them.
They're moving in perfect sync with one another the entire routine, like mirror images of each other.
Flipping, twirling, and jumping as they glide across the ice, every movement seeming impossible yet effortless.
They unleash a flurry of difficult tricks toward the end, including one that I've never even seen before!
The sibling ice skaters continue to wow the crowd with their brilliant skating until the end.
Each move is better than the next; one move, in particular, makes the crowd go wild.
Sinead's leg is completely contorted until it's pressing to the back of her head, all while being held in the air and spinning rapidly.
You have to see it, to believe it. It's incredible.
Fans go nuts following the epic performance, they're all smiles as they skate off the ice and await the scores.
The siblings must know that they've just performed for a lifetime; it's obvious to us!
Throughout the whole performance, they display an extraordinary level of talent that leaves you begging for more.
This is beyond any ice skating routine I've ever seen.
The siblings are completely on point together and make it look easy!
Watch the video below!
Please SHARE this with your friends and family.
Article Sources:
YouTube – 宋天
Jenny Brown is a senior writer at Shareably. She is based in San Francisco and can be reached at
[email protected]