Exactly 19 years ago on December 1st, Robert Irwin was born to parents Steve and Terri Irwin. It's hard to believe that that little toddler we used to see in videos playing with his dad is all grown up now.
It's also hard to believe that it's been a whole 16 years since Steve Irwin passed away. If you were the slightest bit interested in nature and wildlife, then you were likely one of the people who were entirely heartbroken when he passed.
Now, Robert Irwin is celebrating his 19th birthday, and it was a huge moment.
The celebration took place at none other than the Australia Zoo, the same zoo his family has been running since before he was born.
It was a rainy day but Robert was out on stage making sure the guests were having fun.
On stage with him was his mother Terri, who was left to raise Bindi and Robert after Steve's tragic passing in 2006.
The 19-year-old Robert is impressed by his cake and is excited to eat it. Not yet though, says his mom.
Cake can wait. They have something a little more important to show him first.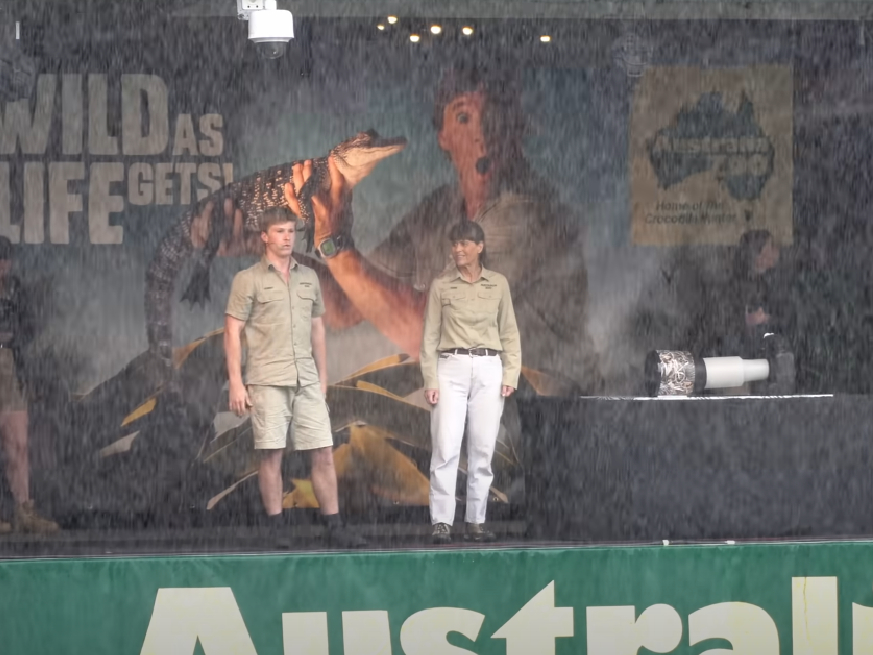 Friends of the Irwin family prepared a video message to greet the young crocodile hunter.
All kinds of people from conservation workers, musicians, and anti-poaching rangers across Australia and Africa wished and sang him a happy birthday.
"We've been with you from the very beginning." says a member of African Beat, a music group.
Everyone feels like they've seen the Irwin children grow up. And it's not far from the truth.
I remember watching Bindi The Jungle Girl as a kid when she was a little girl.
Seeing her as a mom now is surreal. to say the least.
However, the video was building up to a more touching clip. One from their beloved dad.
The late crocodile hunter appears in the video as he was over a decade ago.
Bindi and Robert were only little kids, and their dad spoke immensely of how much he loved and cherished them in the video.
View this post on Instagram
"And I put him on Terri's chest and we're just stoked. And at that moment…at that very moment. I saw the light." said Steve in the video about the day of Robert's birth
Steve knew how dangerous his job was.
Though many of us found his death from a wild animal shocking and tragic, it appears as though Steve Irwin himself harbored anxieties about such a thing way before.
"This is why I was put here. Because I could be dead tomorrow." he said about having 2 amazing kids.
He had several snake bite incidents, close calls with Komodo dragons, and regularly handled and fed large crocodiles.
It's no surprise that he might have anticipated such a thing. That doesn't make it any less tragic.
"When they're ready to run up our mission, I will gladly step aside. Then and only then will I know that I have achieved my ultimate goal." he continued about Bindi and Robert.
His kids are all grown up now, and he'd have been very proud to see them now.
View this post on Instagram
He might not be with us anymore, but his legacy and everything he stood for still is.
This video was enough to move Robert to tears. The 19-year-old crocodile hunter admitted that you can't watch that and not cry.
Meanwhile, his mother joked that the reason she cried was that she was filmed giving birth twice.
Robert wiped away some of the tears on his face. I'm sure some of us teared up watching that too!
"You're making me cry on my birthday!" remarked Robert
The Irwin family, not just Steve, played a huge part in teaching several generations about the beauty of the natural world. Watching his legacy continue through them is nothing short of heartwarming.
And now that he's 19, we can't wait to see what amazing things Robert accomplishes.
Click the video below to hear the sentimental message for yourself!
Please SHARE this with your friends and family.
Source: DisKirra on YouTube, Robert Irwin on Instagram
Luis Gaskell is a contributor at SBLY Media.