At a recent celebrity-studded event, Michael Bublé and Blake Shelton sang "Home" in a duet.
This song was first performed by Bublé in 2005, then Shelton covered it in 2007.
Amy Foster, who co-wrote the song, was among the incredibly passionate audience.
View this post on Instagram
It was a duet to remember.
Many musicians choose "Home," Michael Bublé's blockbuster single from 2005, as a favorite.
But the two celebrities recently had the chance to perform this song together.
View this post on Instagram
When you hear names like Kenny G, Celine Dion, and Brain McKnight in the same sentence, you know that someone in the music industry has planned a spectacular show.
Famed music producer and music industry tycoon David Foster is the culprit in this instance.
The concert was spearheaded by Foster.
David Foster has developed quite a reputation over the years for recognizing potential and bringing out the best in a number of talents.
David's concert was undoubtedly memorable given the presence of so many musically talented friends in one place.
The songs were thoughtfully chosen to make the most of each musician's talent.
It was indeed star-studded.
These stars included Blake Shelton and Michael Bublé.
The two were scheduled to sing Bublé's song during this enormous occasion, and they did not disappoint.
The crowd knew they were in for a treat when David Foster took his seat at the piano.
And what happened next was legendary.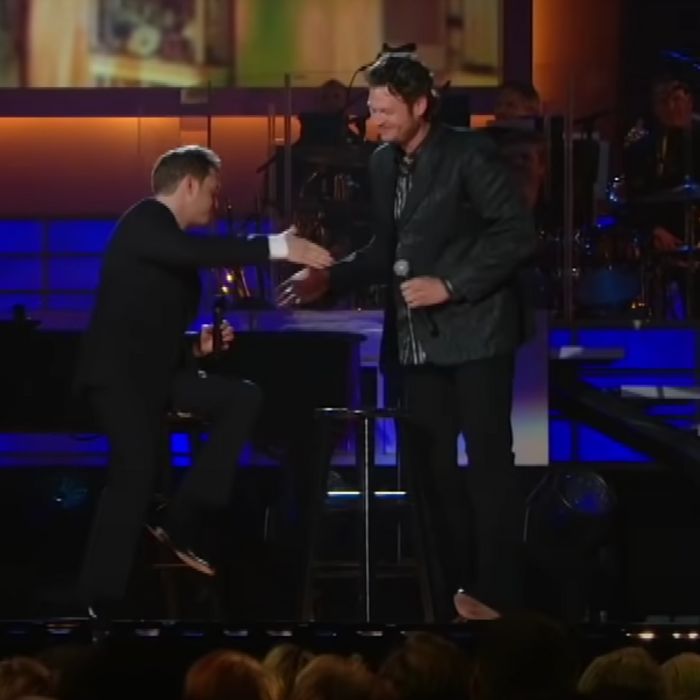 Bublé started off with some light humor before rapidly becoming more somber.
He dedicated the performance to Amy Foster, David's daughter and co-writer of the song, just before going on stage.
David's smile, which was already dazzling, became effervescent.
Foster said, "What was that?"
This came after Bublé had finished singing a few lines of his hit song.
Foster told Bublé that "the guy that actually has a country hit with that song is here."
Before long, it became a duet.
Blake Shelton swiftly contributed his voice to Foster and Bublé's musical composition after he entered the stage to provide a fresh sound.
Despite the fact that they perform in quite different musical genres, they were able to complement one another and discover an even better place to be together.
Their performance demonstrated that "Home" is a place that every one of us may find.
Music truly brings everyone together.
Music is a universal language. It can bring people together and help them have fun.
Music has many different purposes, from bringing joy to your life to helping you relax or motivate yourself.
You can also use music for making art, or for learning new things about it.
If you want to learn more about music, it can be helpful if you listen to as much of it as possible.
It will truly open up a whole new world for you the same way it did for these two incredible musicians.
See Michael Bublé and Blake Shelton come together in this emotional performance in the video below!
Please SHARE this with your friends and family.
Gianella Argao is a contributor at SBLY Media.