Whether you are a senior citizen, a middle-aged person, a young adult, or even a six-year-old girl, when the music hits you just right, you've got to dance!
Also, sometimes said dancing goes viral.
That's what happened to little Zoe.
She was on a school trip to London when she heard the beautiful sounds of Mary Poppins being played by a street pianist and what happened next would turn her into a viral sensation.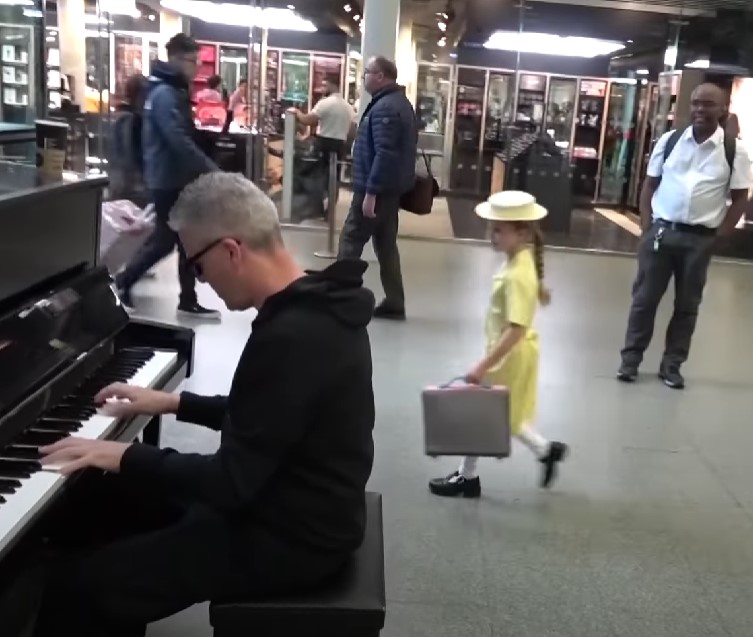 "I'll just put my bag down here and dance a little while"
The video begins with popular YouTuber and pianist, Brendan Kavanagh, playing a tune from the popular musical Marry Poppins when Zoe walked past.
The little girl was dressed for success, with a yellow ensemble and hat that made it appear as though she had just come from a performance of the show.
She set her bag down as if to say, "Clear the area everyone, I'm about to dance!"
And that is exactly what she did!
Let's pick up the pace a little
Suddenly, Kavanagh starts to pick up the pace of his tune but little Zoe doesn't miss a beat.
She keeps right on dancing away. It's clear this little girl has had some training.
As Zoe continues her dance, onlookers start to gather.
They might have somewhere to go but they are not going to miss the rest of this performance.
A well-deserved round of applause
As the song comes to an end, Zoe gets down on one knee and spreads her arms wide to bring her dance routine to a conclusion as well.
Onlookers gave both the dancer and street pianist a well-deserved round of applause.
Zoe and Brendan talk about the performance
After the routine is finished, Brendan leans in and asks the girl her name and if she has a parent, teacher, or guardian nearby.
Zoe explained that her teacher is near.
"How come you stopped to dance?" Brendan asked Zoe.

"Because I liked the music," she responded.
And isn't that the best reason to dance?
Supercalifragilisticexpialidocious
Zoe even knew that the music Brendan was playing was from Mary Poppins.
She could even say the word "supercalifragilisticexpialidocious" which was the name of a song in the popular musical.
Brendan didn't ask her to spell it, however, which is much more difficult, as the writer of this article learned the hard way.
In Mary Poppins, the word is used as "something to say when you don't know what to say."
Who is Brendan Kavanagh?
Little Zoe didn't stop by any old street pianist that day in London.
Brendan Kavanagh is a hugely popular YouTube star.
Videos of his performances have amassed more than a billion views worldwide.
As of this writing, he has just under 2 million subscribers to his channel.
Most of the time, Kavanagh is the star of his videos.
In this particular video, however, Kavanagh's talents are overshadowed by young Zoe's dancing.
We don't think Brendan minds one bit, though.
This video has been viewed over 10 million times and many viewers felt compelled to leave a comment as well.
"The performance of this brave little girl and the respectful treatment by the pianist would always lift spirits on a dull day," wrote one viewer.

"That little girl was so amazing! To have a child come up and start dancing to the tune of a very good piano player was just beautiful," wrote another.
Watch Zoe's amazing dance routine in the video below!
Please SHARE this with your friends and family.
Ian Carey is a contributor at SBLY Media.