What's excellent about talent shows is that they will always have great moments.
Performers from around the world gather in one show to showcase their talents.
Some performances would surprise even the judges themselves!
In the 2023 season of Britain's Got Talent, one of the performers caught the audience's hearts and the judges' hearts.
Nathan, 24 years old, is a ballroom dancer.
Down's Syndrome does not stop him from dancing!
Together with his dance partner, Joanne, 28 years old, both went on to dance the cha cha cha to Shakira's hit song Try Everything and wowed everyone!
As they entered the stage, Alesha greeted them cheerfully.
It was revealed that she invited the dance couple to audition in the talent show, to which they obliged in excitement.
Alesha asked them, as the judges normally do, about themselves, and what they will be doing.
"Well, for Nathan, this is such a special moment to get to perform for everybody," Joanne answered.
"And show that you really have a passion for something then you can really achieve really great things," she added.
Joanne further explained that Nathan has got a wonderfully cheeky personality.
He has the heart and passion for dancing.
His favorite dance routine is Cha Cha Cha.
Crowds clap and cheer as the duo starts to dance.
With all smiles, they stride to the stage and were just enjoying their moment, especially Nathan.
The crowd picked up the pace and clapped harder for Nathan and Joanne.
Cheering them on as both continued the routine.
Both their personalities are bubbly and they showed how they loved the art of ballroom dancing.
As they roll, the crowd got up to their feet and continued to clap.
Nathan and Joanne were having the best time of their lives.
The crowd got up to their feet and applaud the beautiful performance that Nathan and Joanne presented on the show.
Even the judges stood up clapping!
With his purest emotion, Nathan was overwhelmed with appreciation.
He truly enjoyed it.
Bruno thought it was a cheeky, sizzling, and joyous Cha Cha Cha.
He added, "You were working it, Honey. Keep doing it!"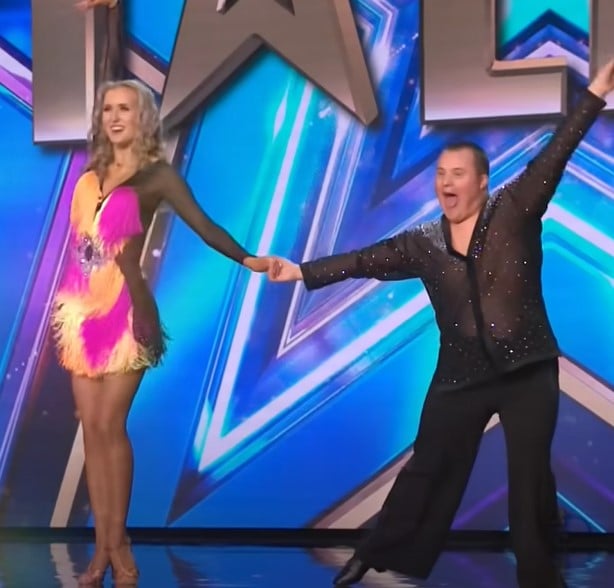 Amanda commented she felt so proud of Nathan's performance.
"Your footwork was brilliant, your facial expressions were everything. You were just amazing," she said.
"We do get good dancers, who are very boring on this show," Simon's comment was sharp. "But both of you got such an amazing personality," he added with conviction!
Simon further explained that even before they started, every person in the theater already thought they were brilliant.
"Everything about this audition, I gotta tell you, I love!"
Alesha thanked Joanne for nominating Nathan for the show.
And also thanked Nathan for being such a superstar and making them all feel joyful.
"It really moved me, thank you!"
As the judges cast their yeses, Nathan could not contain his emotions.
It was a touching site to see.
His happiness was very pure.
The video has gone viral and is already viewed more than a million times in just days.
Truly an amazing feat from a great man!
Watch Nathan and Joanne's graceful performance on the video!
Please SHARE this with your friends and family.
Sheehan Diapues is a contributor at SBLY Media.