The Marines will teach you drill after drill when you sign up to join them.
You'll learn pushups, how to load rifles, and how to service equipment.
It's all mandatory.
But you could also be like these Marines and add other moves to your repertoire – like a good old boogie.
The setting is the Marine Corps ball and the dance floor is open to any takers.
Luckily for those viewing, there's no shyness from the attendees here.
When you've worked and served your country that much, it's only natural to want to unwind and boogie a little bit.
Wouldn't we all do the same?
And there are other attendees here besides the Marines themselves.
They deserve a show or two. So let's give 'em one!
Michael Jackson's "Billie Jean" plays through the speakers.
Can they move like MJ, though?
The answer is yes.
See that Marine doing the sideways moonwalk? He's going to be all you'll see for the first minute or so.
Though make no mistake, he's not the only dancer in this squad. He knows the shuffle, the worm, and the robot.
Combined with the physical training he received on duty, it makes for some superb control and finesse in his dancing.
That's another thing Marine training is good for, I guess.
Surely even MJ would have grabbed some popcorn for this show!
We all know someone who tried to learn the dance to Billie Jean, unless that someone was you.
It's not easy to move like MJ, I can tell you that.
The man had finesse and groove like no other, and hearing him pass away only inspired more people to learn his moves.
Another Marine comes up to join the fun, and he's no slouch either.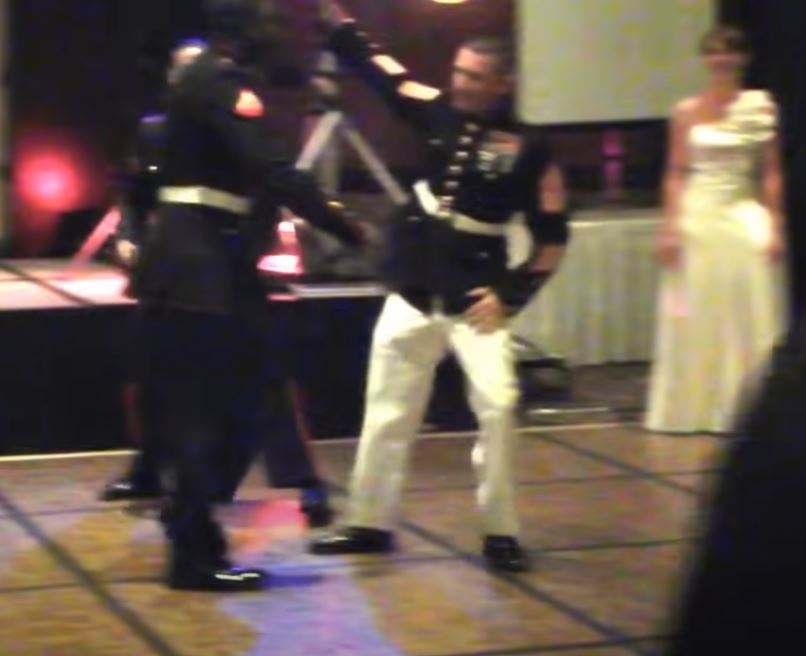 He's got just as much a groove in his body as his squad mate, and he's about to prove it.
He's got the shuffle and he can do the splits.
Once he's done putting on his show, the other guys make their way onto the floor to dance as a whole group.
Seems like every member of this squad knows how to dance. What kind of camp was this?
Marine number 2 was even feeling a bit of a dance-off in him and challenged his mate to a friendly dance battle. Is he up for it?
He does a little strut and robot to start them off.
Marine number 1 takes him up on it and answers with some robot action of his own.
The little exchange got them some cheers from the attendees, obviously.
That was one heck of a night for these Marines and for the guests too.
Surely it made for some fantastic memories for this bunch.
Wherever they are now, they can take pride in the fact that their moves have scored over 1.6M views online!
Watch the video below to see them dancing for yourself!
Please SHARE this with your friends and family.
Article Sources:
YouTube – Gabriel Garcia Real Estate Agent