Music knows no age or status, and the song "Uptown Funk" by Bruno Mars and Mark Ronson is proof of that.
The track became so popular that musicians worldwide, including Keith Mullins, couldn't resist performing their renditions.
Keith, a seasoned musician who has been performing since he was fifteen, stays true to his roots while traveling and performing wherever the road takes him.
During a performance at the Inverary Resort, an elderly couple from Texas stole the spotlight.
They were so enamored by Mullins' rendition of "Uptown Funk" that they couldn't resist getting up and dancing.
Although they didn't move like young people after a few drinks, their attitude and enthusiasm were infectious.
It was clear that they were having a blast dancing together and viewers couldn't agree more.
Someone commented,
"Just watched it again, love it more, the pair dancing are awesome and the version of this song is amazing, brilliant video and love to the pair dancing and the singer."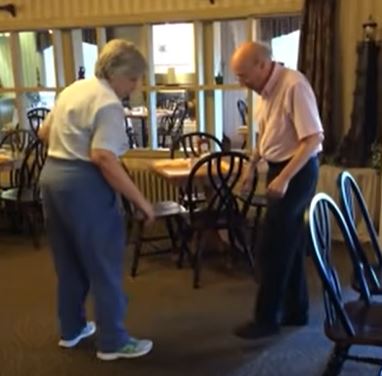 It was a fun moment for everyone involved.
The key to such a beautiful moment is spending decades with your loved one.
Over time, the body may age, but dancing with your partner becomes an unparalleled experience.
The grandpa in the video still had some impressive footwork, and it was evident that he was dancing his heart out.
One can only imagine how charming he must have been in his youth, but it was the elderly lady who captured his heart because she danced with him through the journey of life.
Viewers found the couple inspirational and adorable.
One viewer noted that getting older doesn't mean becoming frail or dependent on a walker or wheelchair.
Staying active, whether it's dancing, walking, or going to the gym, is crucial for maintaining strength and vitality.
The couple's appearance at Keith's performance not only made his day but also brought a smile to his face.
Playing in front of large crowds is nothing new for Keith, but seeing the elderly couple dance to his music was a special moment.
The grandpa's shuffle stutter step and the grandma's hip action were highlights of their dance.
A viewer commented:
"that was so cute ! pop jus showed off ! 😄he was every bit of a 40 y.o but they both are so blessed! 🤗🤗"
The video has also gathered lots of comments complimenting the singer for his amazing cover of the song.
"Omg adorbs….shake that money maker grandpa….much respect…yes this version of Bruno mars is off the chain…awesome"
Dancing is not only a fun activity but also has numerous health benefits.
It is a great way to stay physically active, improve muscle strength, enhance flexibility, and maintain a healthy weight.
Additionally, dancing can boost mental health by reducing stress, anxiety, and depression.
It also promotes social interaction, improves memory, and enhances cognitive function.
Press play below to watch these grandparents boogie down to "Uptown Funk!"
Please SHARE this with your friends and family.
Article Sources:
YouTube – Keith Mullins