Who doesn't know Footloose?
The American musical drama has endeared itself to viewers all over, and to this day, people still enjoy a good run of the film.
Then you have dancers everywhere who will always have their own take on the steps.
But have you ever seen Footloose done to a line dance?
It's a pretty self explanatory dance, and watching this guy and his team of women will have you standing up and trying it out for yourself.
This happy group of dancers are just dancing their day away and it's a good release.
Line dances are choreographed dances executed with a repeating series of steps performed by people at the same time.
They will usually lines or rows, and the dancers won't make contact with one another.
But some groups change it up by moving around the floor to break the monotony.
Ren McCormack (Kevin Bacon) would be so proud of Matt Adams here.
He is the founder and owner of dance fitness company Dance Sweat Smile.
Based in the San Francisco Bay Area, California, Matt was the sole employee of Dance Sweat Smile, taking care of all front-and-back-end business operations.
He choreographed dances, sold clothing and merchandise he created, and then began an online community thanks to the magic and the power of the internet.
And you can see everyone smiling in this line dance.
Dance Sweat Smile is an open and welcoming dance community welcoming dancers of all ages and dancing ability.
Look at this happy group. Just dance!
And since it's a line dance, they've dressed up for the part too.
It's interesting because line dancing did not originate from country western dancing.
Only in the 80s and 90s did line dancing start getting associated with country music.
But it works either way!
And if you know Footloose then you know where the movie was set.
Watch Matt and his dancers.
Line dancing is pretty easy to follow if you can count in rhythm.
Matt's all women dance team are all smiles and they're ranging from young to old.
Does it matter? Of course not!
Line dancing doesn't require dancing with a partner, so it is ideal for singles and people who don't normally dance.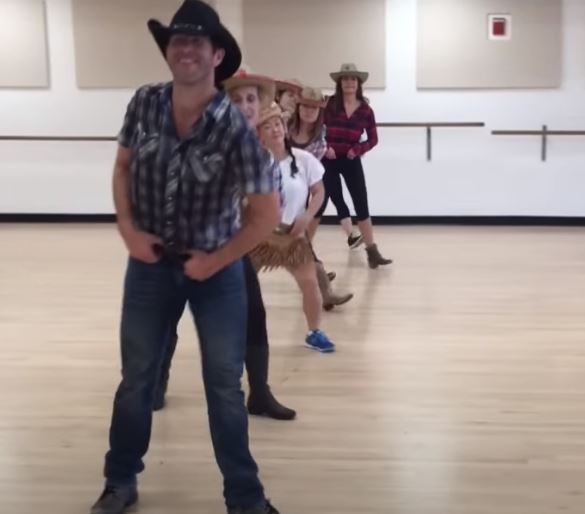 And it's great for those who are shy or aren't really that skilled in dancing. Just follow the lead of whoever's leading and have fun.
You can see different skill levels in this group but the the dancing doesn't stop since they follow the same steps.
And it's Matt so that makes things way easier!
Step left, step right, front, back, spin, and repeat!
The lady to his left made a few mistakes but Matt just smiles and encourages her to keep going.
That's the spirit! That's the proper attitude!
Looks like a fun choreo too so get up and try it for yourself!
Keep this video playing on repeat so you can follow Matt and his friends.
Check out Footloose with a line dance in the video below!
Please SHARE this with your friends and family.
Eduardo Gaskell is a contributor at SBLY Media.