Susan Boyle is one of the most notable success stories to come from a televised talent show in the last decade.
First appearing in her 2009 audition for Britain's Got Talent, she dazzled audiences with her surprisingly beautiful rendition of "I Dreamed a Dream".
Over the last decade she has only gotten bigger and bigger and still does massive tours around the world. Nice one Suzy!
She is known for having an angelic voice despite coming into stardom later on in life than most do.
And it's a voice that has stunned millions.
As you can see, she started from very humble beginnings with her Britain's Got Talent Audition!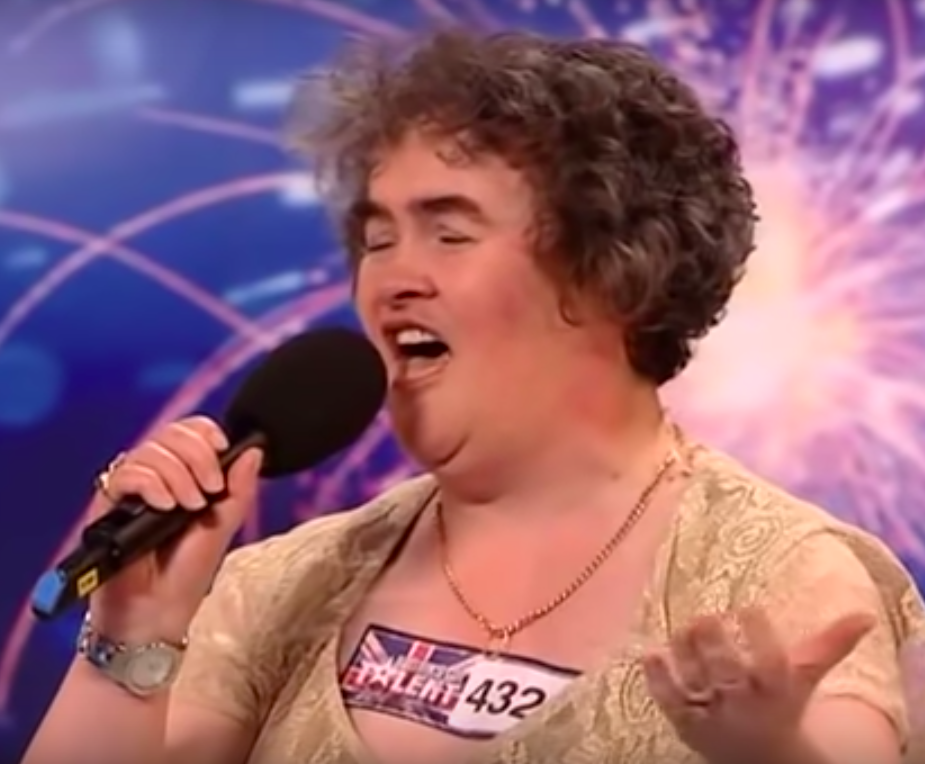 Susan appeared on Britain's "The Paul O'Grady Show", a popular British talk show that ran from 2004 to 2015.
He is a popular icon in The United Kingdom and has over the course of his show invited many top-shelf British celebrities onto his show.
And in keeping with the festive season, he had Susan Boyle come on to sing her amazing rendition of "Little Drummer Boy".
Paul O'Grady brings Susan on, calling her a,
"True global singing sensation. In four years she shifted more than 20 million albums worldwide. She's an international star."
International star is right, and this star shines extra bright during the Christmas season!
Already we can see how far she has come since the days of Britain's Got Talent.
Gone is the frizzy grey hair in favor of a stylish do, something fashion forward critics must have celebrated themselves.
They can't sing like Susan though so take that.
She looks like she could be singing at the Grand Opera House in 1922!
She has obviously gotten used to the limelight and now stands on stage with grace and confidence.
Go ahead and search for her performances.
There is no denying her talent and her growth in the industry.
Of course, she has the musical talent to back it up!
Where would Susan Boyle be if she didn't have the singing chops to pull off absolute stardom?
Well, she would have been laughed off stage by Simon Cowell that's for sure!
Even the notorious Simon Cowell was shocked the first time he saw and heard Susan perform.
But as history would have it, she has proven her ability from the start, and has only improved with the time and the resource that has allowed her to shine!
The background singers set the tone with a steady "hum".
It's a modest group with only four singers, but they give the whole performance a sense of gravitas.
That's the difference between professionals who spend hours in practice together.
It's not quite choir-like, but it does set the tone with an almost operatic atmosphere.
Then the drummer boys join in! Wait… is that who the song is about?
Ok maybe not, but they do provide the rolling snare that ties in with the lyrics of the song.
The song itself is very quaint in tone, about a little boy going to visit the newly born baby Jesus, but having no physical gifts to give, plays a song on his drum.
And if the song is to be believed, it was a real hit.
If this song really did happen, Joseph and Mary must have been a little annoyed.
No one wakes a sleeping baby with a drum!
Now I know what to do if I forget any family member's Christmas presents, just keep a little drum ready!
And of course the song is not complete until the bagpipes come rolling in!
A fully kilted up piper strolls on stage for the big rise in the song.
The sound of bagpipes is not for everyone, but they do add a very classic Scottish tone.
Let's not forget that Susan herself is Scottish!
Watch the video below to enjoy the majesty that is Susan Boyle!
Please SHARE this with your friends and family.
Article Sources:
NorCalKay- Youtube
Eduardo Gaskell is a contributor at SBLY Media.