The movie Big is an unforgettable 80s classic, and there's a certain scene that sticks out for many fans.
Surely you remember when Tom Hanks and Robert Loggia stunned the crowd playing a giant floor piano in the toy store?
Because of this remarkable film, giant floor pianos have become rampant. Many people have been trying them out!
Not only are these pianos a blast to watch, but they're so much fun if you're the one playing them.
Alexander Dennis Volk is one lucky man, as he has been playing giant pianos for a few years now. It's no wonder why his nickname is Mister Piano.
He loves to play public keyboards and he can also rock rolling pianos. Amazingly, he can also make great music using the instrument.
Aside from that, he has also been described as:
"Mister Piano, real name Dennis Volk, has changed from a class clown to a creative exceptional entertainer on the piano. At the beginning of his career, he mainly played accompanying music for events – always with his own piano – so his tendency towards creativity, extravagance, and visionary thinking soon became apparent. The shows and ideas that he has developed from this have brought him to various TV programs and are popular with organizers all over Europe."
He captivates people across the internet with his performances!
History of Giant Pianos or Walking Pianos
Wikipedia says that the first "big piano" was created in 1982 and it was the one-octave version.
In the same year, it was also displayed at a toy store in New York City – which is called the FAO Schwarz.
An expanded version of it was built in 1988. It was a three-octave version and you know what?
It was the exact piano that they used in the film Big!
The director of the movie, who is Penny Marshall, was the one who personally requested that enormous instrument.
One memorable piano
This piano was displayed at "Please Touch Museum" in Philadelphia, Pennsylvania and it was housed there until 2013.
Those people who had the chance to see it in person were really lucky!
Don't fret because walking pianos are still available to this day. In fact, they can be purchased online and they are also perfect for kids!
In one of Mister Piano's videos on YouTube, you'll see how he breathtakingly played it in front of a huge crowd.
He was with his partner and they were dressed in piano-inspired costumes.
They were also barefoot so they could perform well.
They perfectly stamped every key and did a harmonious version of Heart and Soul.
The audience gamely participated too.
When Volk's partner was doing her part, he encouraged everyone to clap to the beat of the song – which they did and it turned out beautifully.
It was indeed a magical moment for everyone.
The crowd loved it beyond description, and so did the online viewers.
The clip has been viewed over 6 million times and many of the viewers also left their honest comments.
Some of them were even interested to know more about playing giant pianos.
"The best way to perform a tremolo? Obviously it's a handstand! I love this performance. Where is this? And how frequently do you perform? Also, don't you get super tired or something, depending on how long you perform," one commenter wrote.
Another YouTuber also said, "This song is so cool. I cannot believe how they do that."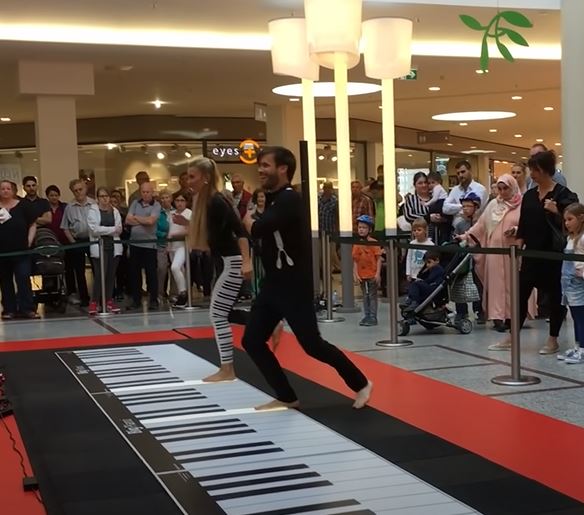 It's such a fun performance, you're gonna wish you were the one playing the giant piano.
Check it out for yourself below!
Please SHARE this with your friends and family.
Patricia Lynn is a senior writer at Shareably. Patricia is based out of San Francisco and can be reached at
[email protected]