Imagine a world brimming with renditions of the iconic song "Footloose."
Now, picture a performance so unique, it stands out like a diamond in the rough.
That's precisely what the Kentucky Vocal Union (KVU) pulled off at the International Barbershop Chorus Competition in Portland, Oregon.
This annual event is a mecca for vocal ensembles worldwide, each vying for the coveted gold medal.
But KVU had something extra special in store.
As the members of KVU took the stage, they were the epitome of elegance in their black formal attire.
But don't let the sophisticated look fool you; they had a trick or two hidden up those well-tailored sleeves.
Based in Louisville, KVU is a melting pot of vocal talent, drawing members from various parts of Kentucky and even neighboring states.
They're not your grandpa's barbershop choir; they're a modern, high-level group for "serious singers who want to enjoy close harmony," according to their website.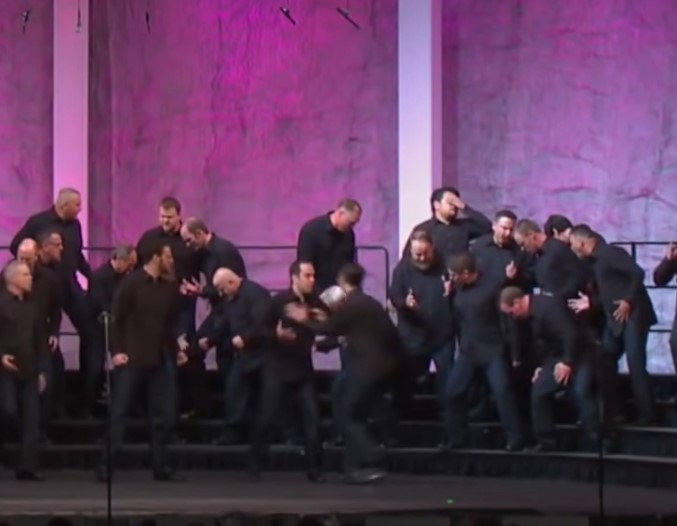 Their mission statement is as clear as their harmonies: "The Kentucky Vocal Union is committed to sharing excellence in a cappella singing through performance, fellowship, and community involvement."
And boy, did they live up to that mission!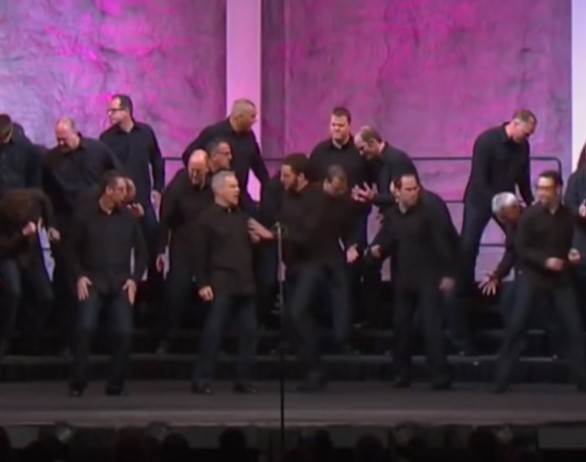 The moment KVU began their act, it was evident that this was not going to be your typical stiff-upper-lip performance.
The men paced the stage, feigning disgruntlement.
What could possibly be bothering them?
Well, it turns out they were acting out a classic dilemma: they couldn't dance!
If you're a fan of the movie "Footloose," you'll recall that it centers around a town that bans dancing.
Kevin Bacon's character, Ren, finds this rule hard to swallow.
KVU ingeniously incorporated this plot into their act, singing in unison, "Gotta get out of this town – need time to dance around!"
Hold onto your hats, because what happened next was nothing short of spectacular.
The lead singer dramatically ripped open his black shirt, revealing a white one underneath.
Was this a nod to Ren's iconic warehouse dance scene?
You bet it was!
Then, the magic truly began. The ensemble broke into the timeless "Footloose" tune by Kenny Loggins, a song that has been getting people on their feet for decades.
The crowd couldn't contain their excitement.
But KVU wasn't done; they had choreographed moves that included shoulder thrusts and punchy steps.
Another member tore open his shirt, revealing a bright green one this time.
As if on cue, more members followed suit, revealing a rainbow of colors beneath their black shirts.
It was a rebellion, just like in the movie, but this time through song and dance.
The performance kept evolving, with members eventually shedding their jackets, leaving the audience in awe.
Their hard work paid off; they clinched the bronze medal in the competition.
But beyond the spectacle and the medals, barbershop choirs like KVU serve a higher purpose.
As stated by the Barbershop Harmony Society, "In times of conflict and exclusion, barbershop inspires us to blend, to cooperate, to create beauty and to love each other."
It's not just about the music; it's about emotional well-being, community building, and breaking down cultural barriers.
KVU poured their hearts into this "Footloose" rendition, and it shows.
Get ready to smile as you watch their performance below!
Please SHARE this with your friends and family.