Those who are expecting a baby or have recently had a baby must have heard of- or tried- baby-wearing.
According to the American Academy of Pediatrics,
"baby-wearing has demonstrated many benefits, including improved success with breastfeeding, improved infant-to-parent bonding, and improved attentiveness by fathers."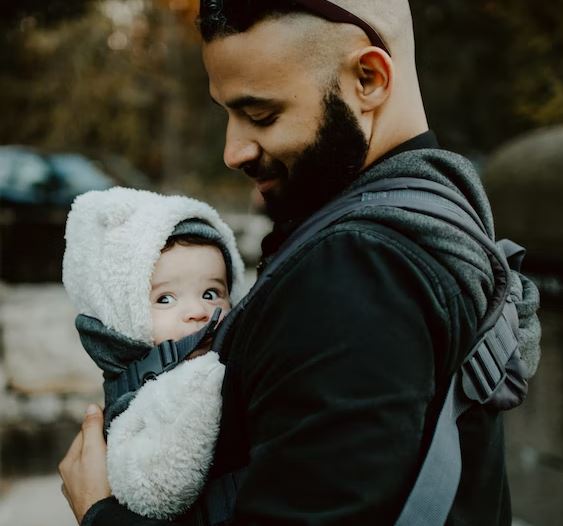 It seems that, if done right, wearing your baby can help comfort them and prevent crying.
It also promotes the bond developed between parent a child.
Studies suggest that baby-wearing can prevent hip dysplasia, while the most important benefit of all is that parents can be close to their babies most of the time, and not miss out on daily activities.
One of the activities that parents- and especially moms- cannot seem to find time for is working out.
New moms feel the need to be close to their newborn babies all the time.
The babies feel more comfortable in their arms, they sleep better there, while they can also breastfeed as needed.
However, working out requires time away from home and, consequently, away from their babies.
But, does it really have to be like this?
Over the last few years, dance classes have been organized where parents can join while wearing their babies.
What starts as an opportunity to work out can end up building a whole community that shares the same mentality.
"They come for the exercise, but then through the process, they find a community," Amber Anjali, co-founder of GroovaRoo, told TODAY.
But it's not only moms who want to dance with their babies on them. Sometimes, it's also dads who wear their babies on them and start dancing as if nobody was watching.
This is exactly what happened a few years ago, when a group of dads taking babywearing dance classes with GroovaRoo performed in front of their partners.
About fifteen men, all wearing their babies, from newborns to toddlers, danced to Wild Cherry's "Play that Funky Music", and everyone loved it.
It wasn't just them or their babies who enjoyed the hilarious dance, but also their partners who were their audience.
The men, some more confident and some more anxious about getting all the steps right, did a great job dancing to the popular song.
It was too cute to see them dancing while trying to make sure their babies were all good at the same time!
Towards the end of the song, they invited their partners to dance with them, and it was all too sweet.
Their performance was uploaded on YouTube and it soon went viral putting a smile on people's faces.
Some viewers commented that they loved seeing those dads dancing with their little ones.
And we did, too. It's just so sweet to see these men, some of whom may normally not be fans of dancing, feel the rhythm and do their best, while enjoying their special father-baby time.
Head over to the video below to see their cute and hilarious performance!
Please SHARE this with your friends and family.
Irene Markianou is a contributor at SBLY Media.