A dark stage holds fifteen dancers and fifteen chairs, all of them arranged in a semi-circle wearing a black suit, white dress shirt, black boots, and a black hat.
It's certainly off to an interesting start!
It is an outfit similar to that worn by Orthodox Jewish men, and the chairs are simple, dark brown folding ones.
You will be listening to "Echad Mi Yodea", a traditional Jewish Passover song in the Haggadah sung after the meal.
It is a dance that will take your breath away.
The unique beauty of it has captued over 3.2 million views with one viewer saying:
"I could watch this piece for hours. Hypnotizing, love it!"
A powerful drum beat, electronic and rock elements, and a resonant male voice take over with a children's choir singing, "shebashamaim uva'aretz".
That translates to "In Heaven and Earth."
It's a song that's meant to be fun and even educational, though this rendition feels more militaristic,and aggressive with their lighting, serious expressions, and high-energy.
The dance follows the song, and it conveys a message.
Choreographed in 1990, "Ehad Mi Yodea" was part of the full-length work "Kyr", the first dance Ohad Naharin created for the Batsheva Dance Company as their artistic director.
The choreography seems easy to learn, but it is physically demanding.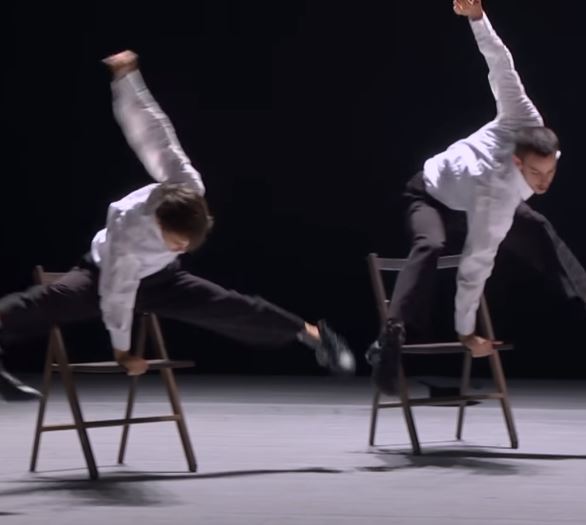 Stefan Ferry was a dancer and member of Batsheva from 1999 to 2008:
"It's a rough one…you enter the song by repeating the movement, entering a short trance, a meditation. You take it rough, you really physically involve yourself. You shout loud enough for people to hear and then you sit and wait…and this waiting is like a charging point."
Just look at those short, explosive movements.
Almost like they want to stomp a hole through the stage or even throw those chairs.
As to the dance's meaning,
"The repetitive sitting, standing, and shaking evokes davening in synagogue. The piles of thrown clothing suggest photographs from the Holocaust.
The dancers toil through the choreography and their struggle could be read as a historical homage to the building of Israel."
And that one dancer falling?
"When Naharin decided to change the movement, one dancer, Erez Levy, did not hear the instructions and fell as before.
His error was incorporated into the dance in the role of "the faller," who sits at the end of the circle, falling to the floor at the end of each wave."
It's a dance you'll have to watch again and again to understand.
Fascinating stuff, incorporating the past and their culture.
It's so good, this viewer had this to say,
"This style of movement is one of the most beautiful things I've ever seen. The creator is truly an artist. I think part of his beauty is that he is not afraid of mystery.

He doesn't try to explain or help us understand everything, but helps us to enter into it."
The energy as the song picks up is addicting and their movements become mesmerizing.
It's a performance like no other and incredible to watch.
Watch this unique and beautiful dance in the video below!
Please SHARE this with your friends and family.
Eduardo Gaskell is a contributor at SBLY Media.