What's a baby's heartbeat like? How fast is it?
There is nothing like the beauty and wonder of new life.
Parents often tear up the first time they hear their baby's heart.
So imagine the struggle for couples who are trying to conceive but are facing issues of sorts.
Dance crew Conversion is from Quebec.
They took to Canada's Got Talent's stage for a dancing tribute to their coach Vince and his wife.
A couple who struggled with fertility problems for many years before finally welcoming their precious little one.
The dancers, in matching gray outfits, danced to the heartbeat of their coach's baby.
An emotional routine that had judge Trish Stratus tearing up.
To the sound of the unborn child's heartbeat, Conversion executed a wonderful dance choreography.
A rhythmic thumping accompanied by strokes of a piano.
There was a collective hush over the judges and the audience as the dance crew moved together on stage.
Now Trish Stratus is a retired professional wrestler so she's one tough lady but even this moved her to tears.
She's also had her struggles trying to get pregnant a few years back.
This performance was also special for the former wrestler.
Her first child was born in 2013, but it was her second pregnancy that proved difficult.
There were talks of in vitro fertilization and even donor eggs.
Stratus eventually conceived naturally but then had a miscarriage hence the reason why she stepped away from the spotlight.
Three months later, she was pregnant again.
Conversion may or may not have known this, since they were dancing for their coach Vince and his wife, but it's a performance that has touched many couples watching.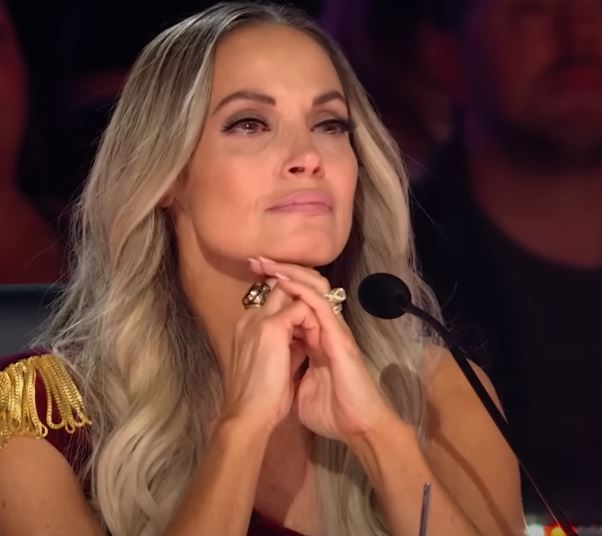 The crew's performance ended with a dramatic moment wherein the dancers stuck their arms through a large piece of black fabric while one took center stage for her solo.
What you are hearing is the ultrasound of their coach's baby.
Judge Howie Mandel told Conversion that it was "by far the best act I have seen tonight."
Stratus was shocked knowing that Conversion had 36 dancers on stage, with "36 bodies moving as one," adding that they were "completely in sync".
She went on to call the dance "such an intimate story."
Playing to the audience's cheers, Stratus slowly gets up, teasing the crew who by now were shaking in anticipation.
This viewer knew it too.
"As soon as I heard their story I knew this would be Trish's golden buzzer. If you know Trish's own fertility struggles you know why it touched her heart.
It was a beautiful performance. All heart."
The once most beautiful female pro wrestler in the world still knew how to cut a promo.
"When we started the show, I got asked, 'What do you want to see on stage?' And I said, 'I want to feel it.' I said, 'I want my heart to skip a beat, and I want my heart to soar,'" Stratus recalled. "And you know what, guys? I was really, really feeling it. And I think they were feeling it."
Stratus then hits the golden buzzer, showering Conversion in gold and sending them to the semifinals.
And the best part is that coach Vince and his wife are very proud!
Watch this moving dance tribute in the video below!
Please SHARE this with your friends and family.
Eduardo Gaskell is a contributor at SBLY Media.