It's always tough to sing in front of a crowd. It takes a lot of nerve to do it.
But there are some who seem to be born for that spotlight. And Trent is one of those people.
Trent Harris was two-and-a-half when he took center stage at a high school basketball game to sing the national anthem. (Seriously, only two!)
If you're looking to have your heart melted today it's an adorable performance you've got to see.
Little Trent is the son of a big athlete.
When your dad's Cincinnati Bengal's football player, Clark Harris, surely you're used to crowds! The varsity basketball game where Trent performed was actually held in Clark's old high school (Southern Regional) in Manahawkin, New Jersey.
The toddler starts out holding his daddy's hand.
In the video, Trent and Clark walk across the gymnasium floor together, and you can see that the stands are full of people.
Clark hands his son a microphone so that he can sing "The Star-Spangled Banner" (which you gotta admit, doesn't sound like an easy song for a two-year-old).
The crowd was in for a special treat.
As soon as Trent begins singing the national anthem – it's pretty obvious his performance is going to tip the cuteness scale. In a precious toddler voice, he sings, "Oh, say can you see…"
Clark, who's crouching down by his son for support, can't help but smile.
Dad, I got this…
By the second line of the anthem, Clark is able to sneak away and let his son shine in the spotlight on his own. Now, surely a lot of little kids would freak out being left in front of a crowd – but not this guy.
He confidently goes on with the song like a true performer.
Someone's been practicing at home.
Trent amazingly knows "The Star-Spangled Banner" very well.
In fact, he might even know it better than some adults! Since he's a toddler though, it sounds extra sweet when he performs it. Even the audience can't help but chuckle hearing him pronounce the lyrics "perilous fight."
It's not the only time he has the crowd laughing.
There's nothing more heartwarming than listening to a two-year-old's voice. So imagine how cute one would sound mixed with lyrics like "rocket's red glare" and "bombs bursting in air."
Trent doesn't disappoint. You can tell that the people in the stands were loving it all.
By no surprise, he earned himself a huge round of applause at the end. Bravo, Kiddo!
The video went viral.
Clark and his wife Jessica decided to share their son's amazing performance with the world. It made many headlines and has been viewed millions of times.
Jessica wrote on YouTube: "My sons first performance!!! Singing the Star Spangled Banner at the Southern Regional High School Varsity boys basketball game versus Pinelands Regional High School. I'm so proud!!!"
After watching it, one viewer commented:
"THIS WAS AWESOME!!!! Puts chills down my spine, too cool!!"
Someone else wrote:
"That is freaking adorable!!!"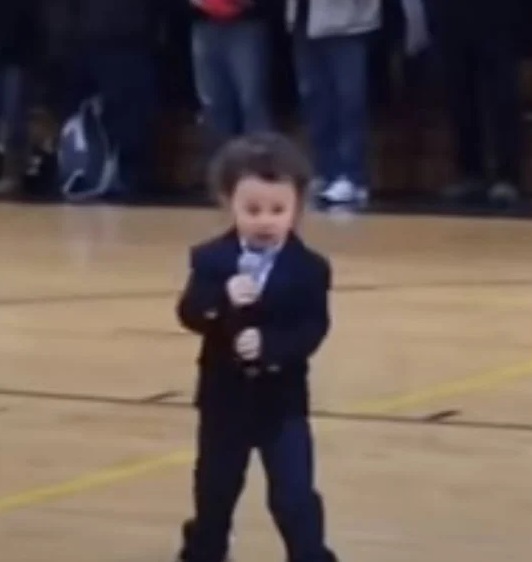 This is truly the cutest version of the national anthem around, and Trent really knocked it out of the park. What a cutie.
Check out Trent giving his incredible performance in the video below!
Please SHARE this with your friends and family.