Three incredibly talented women of country music use their voices to call people back to God.
You are looking at Reba McEntire, Trisha Yearwood, and Kelly Clarkson, and together, they serenade their Nashville audience with a rendition of "Softly and Tenderly".
This gospel song was written in 1880 by Will L. Thompson when he was attending Dwight L. Moody's meetings.
He was so moved by the words and teachings from the evangelistic meeting, so he decided to devote his time composing and writing gospel songs.
In the Bible, the spirit of the Lord will come over a person and inspire them to write or sing songs of praise.
Did Thompson experience the same? Because this is a beautiful song!
In fact, when on his deathbed, Moody said to Thompson that he would have rather written "Softly and Tenderly" than anything else he had done in his entire life.
"Will, I would rather have written "Softly and Tenderly Jesus Is Calling" than anything I have been able to do in my whole life."
Church songs have a habit of staying for decades and even centuries.
Now this was no church, as the three ladies were live at the Ryman Auditorium in Nashville, Tennessee.
They don't even wear flashy gowns as we are all so accustomed to seeing when watching a live performance.
Reba looks very country with a bit of glamour while Trisha and Kelly go for casual outfits that anyone could pull off.
These three are so relatable, it's actually quite refreshing.
You won't exactly sing a church song live dressed like Rihanna or Beyonce during their concerts.
Reba starts it off, her trademark country twang still evident in the way she sings.
And she still sounds fantastic!
Trisha and Kelly join in in perfect harmony, a song that speaks out to all who open their hearts.

"Come home, come home

Ye who are weary come home Earnestly, tenderly, Jesus is calling Calling, 'o sinner, come home"
And soon, those voices soar, as if singing to the heavens.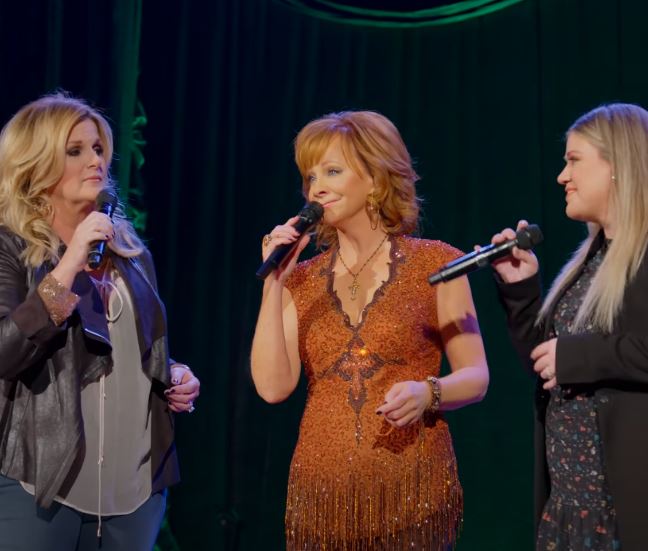 It's certainly a song that will resonate among Christians as the faith often speaks of the love and mercy of Jesus.
The song repeats the gospel's message.
For Christians, it's a recurring theme.
Never mind what you've done no matter how bad it was. Humble yourself and let Jesus have mercy on you.
Just come home, like the parable of the prodigal son.
Maybe there really is something to this song since this viewer shared his journey,
"In February of 1996 our precious Lord used this song to draw me from a life of sin into a life of such blessings and eternal life in Him. I can't hear this song without crying because of His wonderful mercy and grace and the precious blood he shed for me. I thank you Reba for singing this song!!!!"
Perhaps Reba, Trisha, and Kelly's version will call people back.
Those faces in the audiences look like the song spoke to them.
Listen and marvel at the talent of these three amazing women below!
Please SHARE this with your friends and family.
Eduardo Gaskell is a contributor at SBLY Media.