What's your best form of entertainment for Christmas?
It's the time of the year when we attend a lot of parties, programs, and celebrations where we expect to be entertained.
Company Christmas parties always have presentations and games (and some raffles, too!). We even enjoy fun and games during Christmas Eve parties with family and friends.
But for states with snow, most children probably have grown fond of ice skating.
This is why this intricate sport always reached peak popularity during the winter and, yes, on Christmas.
It's just a perfect number to present to any Christmas program because it combines merry, cheer, and the chill and cold of the season.
Oona and Gage Brown's recent performance didn't disappoint.
The sister-brother ice skating duo is no stranger to Bryant Park's rink since this was one of the first few places they trained.
From Long Island, New York, the dance team has come a long way from their humble beginnings.
Oona and Gage were only 4 and 6, respectively, when they first discovered their love for ice skating.
The two became a Pairs team only in 2015, and they did not look back since.
View this post on Instagram
The Browns have represented the country multiple times and placed in various competitions from Novice to Junior levels.
One of their latest achievements was winning the World Junior Figure Skating Championship in Tallinn, Estonia, this year.
Bryant Park honored the achievements of the tandem and had them perform at a holiday number during their Lighting Show.
The duo danced to Ashley Tisdale's version of "Last Christmas," and it's entertaining to watch.
Everything in their performance screamed Christmas!
Of course, there's the cold and ice of the rink, the upbeat and familiar holiday tune (despite its heartbreaking lyrics!), and the energy they put on the floor.
Plus, what is Christmas without some Ugly Sweaters, right?
That starting pose was all you needed to know they would put on a good show.
The siblings were off to an energetic start with their rhythmic dance, followed by a few easy turns and spins.
It was more of a relaxed performance for the duo at the beginning, maximizing the dance performance more to pick up the energy.
Then Oona and Gage stepped up a bit with their impeccable timing and grace.
They landed their toe loops and flips so perfectly that they always stayed in sync; even a much more difficult twizzle looked too easy for them.
Gage started doing lifts on Oona, and it raised the bar for their performance during this holiday program.
No better person to trust to lift you on ice than your big brother!
The Browns showed what their signature performance has been like for the past years.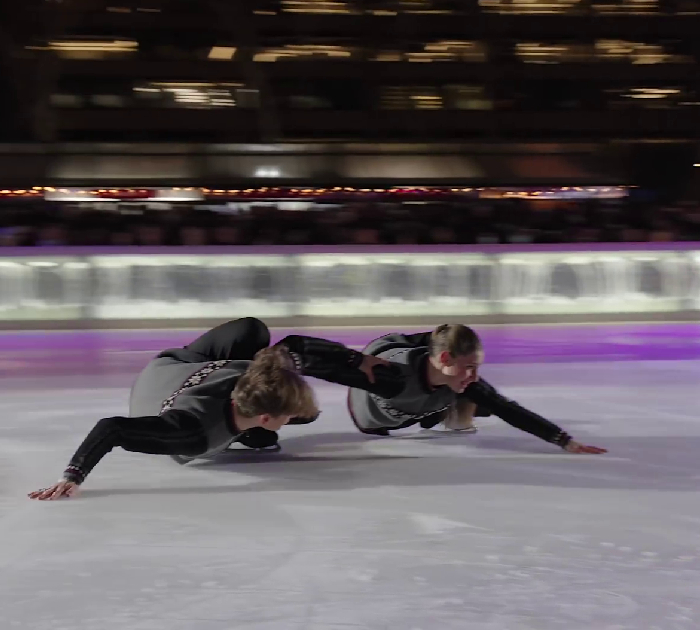 They kept it true to who they were: dynamic and always energetic.
Their past performances gathered people's attention because of their excellent choice of music and perfectly interpreting of it into ice skating dance, and this performance is no different.
Watch the full performance below and see how these two have a bright future ahead!