Imagine the excitement and joy that washed over pop sensation Ricky Martin when his twin boys unexpectedly hopped onstage during his performance in Switzerland's Locarno.
Matteo and Valentino, the 14-year-old twins, burst onto the scene with boundless energy, dazzling the cheering crowd with their spontaneous dance moves.
And if that wasn't heartwarming enough, Ricky's radiant smile as he watched his sons perform was a sight to behold.
Ricky was totally clueless about his sons' plan.
The surprise appearance of his sons left Ricky Martin deeply moved.
He couldn't resist sharing this precious moment with the world.
Taking to his Instagram account, he posted a clip of the stage reunion along with a caption that simply read, "What a beautiful surprise."
You could feel the pure joy and astonishment he experienced when his boys joined him unexpectedly.
The video quickly became a hit among fans, drawing a flood of positive feedback and adoration.
In the comments section, people couldn't help but gush about the evident happiness of the entire family.
Seeing Ricky Martin and his sons dancing together on that stage was a heartwarming testament to their love for one another.
Some fans playfully noted that the apple doesn't fall far from the tree, saying, "Like father, like sons," acknowledging the shared passion for performing that runs in the family.
Others couldn't help but express their delight at witnessing this special moment.
"Love seeing you three together," expressed one comment.
Beyond the stage, Ricky Martin has been an incredible advocate for various charitable causes, using his fame and influence to make a positive impact on the world.
He's been actively involved in raising awareness about children's rights.
Especially advocating for the rights of vulnerable children around the globe.
Ricky's dedication to humanitarian efforts has earned him immense respect, and his fans admire him not just for his talents as an entertainer but also for his compassionate heart.
The bond between Ricky and his twin boys seems to go beyond the glitz and glam of the entertainment industry.
In interviews, Ricky has shared how fatherhood has transformed him and made him a better person.
He speaks fondly of his sons and the joy they bring to his life every day.
It's heartening to witness a successful artist like Ricky Martin embrace his role as a loving father with such enthusiasm and dedication.
It's not just his sons who have captured the hearts of Ricky's fans.
It's his unwavering passion for his craft too. Throughout his career, Ricky Martin's music has resonated with people from all walks of life, transcending borders and languages.
From the catchy beats of "Livin' La Vida Loca" to the soulful ballads that tug at our heartstrings, Ricky's songs have become the soundtrack to countless memories for his fans worldwide.
And as he shares these cherished moments with his sons on stage, it reminds us of the universal language that music is—a conduit for love, joy, and togetherness.
In a world where celebrities are often idolized from afar, Ricky Martin's humility and down-to-earth nature stand out.
He remains deeply grateful for his success and the support of his fans, acknowledging that it is their love that fuels his passion for his craft.
It's not just about the spotlight or the fame.
It's about the meaningful connections he forges through his music and the genuine relationships he nurtures with his family and fans alike.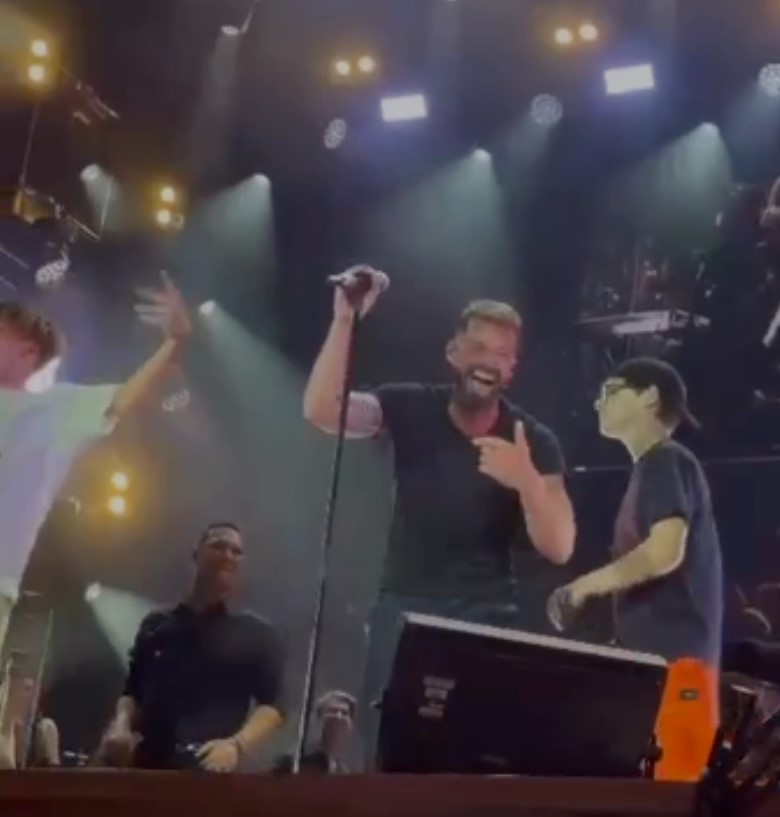 See the moment Ricky's twin sons hop onstage to surprise him in his post below!
Please SHARE this with your friends and family.
View this post on Instagram