"My first audition got over 15 million views and Celine Dion tweeted about me and I was like oh my god it's Celine Dion," a happy Peter Rosalita recalled.
This little force of vocal nature is back.
Rosalita was eliminated during the semifinals of America's Got Talent season 16.
The young singer experienced a hiccup at the start of his performance, and it would have sent any other singer into a panic, but not him.
Peter is back now, and competing against other finalists, winners, and fan favorites all across the Got Talent franchise for the All-Stars edition of the beloved reality TV show.
And he is still all smiles!
"Being in America's Got Talent changed my life. Now that I'm back, I feel more confident and I grew a little," he said. "This is my second chance. I'm gonna make sure that there will be no hiccups."
Even host Terry Crews is happy to see Rosalita.
Prior to Peter's performance, Simon Cowell asked the aspiring singer, "Peter let me ask you a question, you've come back here to compete again so what's the dream, Peter?"
"My dream is to become an international singer and to have my own album," he responded confidently.
His song of choice is aptly titled "Go the distance", the beloved song from Disney's Hercules.
You all know how that played out.
A lot of confidence from a Filipino singer born in Abu Dhabi, United Arab Emirates.
Rosalita has definitely matured on stage.
His voice is there but there is so much more control coming from deep within him.
The judges perked up as the little guy with a big voice let his voice soar to the gods of Olympus.
It's a song we all know and love and Peter will have you singing once again!
Rosalita executes his performance flawlessly and as he finished, Simon stood up, followed by Heidi, and finally by Howie Mandel.
Peter did admit that he was nervous as compared to the past AGT season, "I'm more nervous here. Like right now I have sort of like sore throat."
So Howie Mandel reacted, "You said that you were really nervous and you also said that you have a sore throat. That was amazing without knowing all that. But knowing all that and your age, well done young man."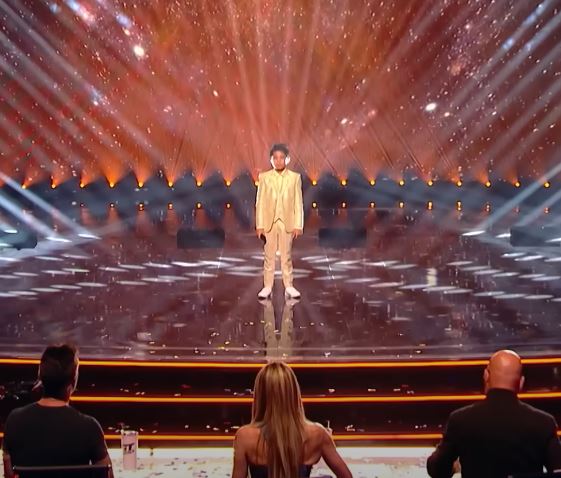 "Peter, you are a star in the making. You really came here to fight and I love that about you," Heidi Klum told the young well-dressed singer.
"You are very old-fashioned, even in terms of what you wear, the kind of song you sing. However, your voice actually got better," Simon told Peter.
The veteran judge added, "I know there's still a lot of people to come. Having said that, that might be enough to put you through to the final."
All those comments after Peter showed Simon a picture of his dog!
The charming Rosalita had the judges and the audience on their feet so chances are we'll be seeing more of this incredible young man.
Watch Peter's impressive vocal display below!
Please SHARE this with your friends and family.
Eduardo Gaskell is a contributor at SBLY Media.