In the realm of music, there are songs that are so legendary they seem almost sacred.
Queen's "Bohemian Rhapsody" is one such song, a complex and powerful blend of rock, ballad, and opera that has left a lasting impression on the music world.
Tackling this song requires not just technical prowess but a deep emotional connection.
So, when 10-year-old Calum Courtney, a boy from Essex, England, decided to perform this challenging piece, it was an ambitious endeavor indeed.
Calum is no ordinary youngster.
Diagnosed with a mild form of autism, he perceives the world differently, a perspective that profoundly influences his musical abilities.
His mother, Tupney Courtney, beautifully articulates this, saying, "He doesn't see the world as we do. He sees it in a more beautiful way."
This unique viewpoint shines through in his music, giving him an edge that distinguishes him from others.
The young boy's rendition of "Bohemian Rhapsody" at a local store quickly became a viral sensation.
Captured on video and uploaded to YouTube, it garnered over a million views.
What mesmerized the audience was not just his voice but the passion and understanding he brought to the song.
His performance was so remarkable that it caught the attention of national media, catapulting him into the limelight.
Music has been a significant part of Calum's life from a very young age.
His family noticed his musical inclination when he was just two years old, as he would hum tunes perfectly in key.
As he grew older, his love for music only deepened. His mother shares, "He sings from morning to night. He doesn't stop."
Behind this young talent is a family that offers unwavering support.
His mother, Tupney, has been a pillar of strength, encouraging him at every turn.
She acknowledges the challenges that come with his autism but also recognizes the extraordinary gifts it has bestowed upon him.
"Autism doesn't have to hold you back," she asserts.
Calum's journey is only beginning.
His viral performance has opened numerous doors, leading to opportunities that many only dream of.
He has already made appearances on popular television shows and is rapidly gaining recognition as a young artist with a promising future.
His story is more than just about a boy with exceptional talent.
It's a beacon of hope and inspiration, particularly for those with autism.
His success shows that with passion, dedication, and the right support, anything is achievable.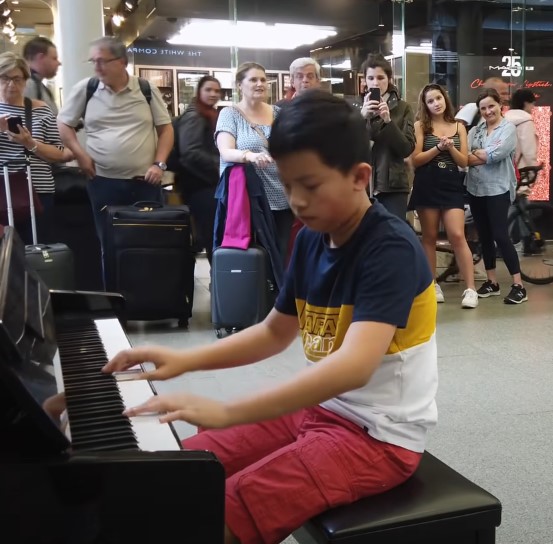 It's a poignant reminder that sometimes, the things that make us different are what can lead to extraordinary success.
As Calum continues to hone his talent, his impact on the music world and beyond is undeniable.
His performance of "Bohemian Rhapsody" is not merely a display of musical skill; it's a testament to the beauty of embracing one's uniqueness.
In a world that often values conformity, Calum Courtney shines as a symbol of individuality and talent.
His journey is a powerful example of how embracing our differences can lead to remarkable achievements.
As he continues to make his mark in the music industry, one thing is certain: this young star is just beginning his ascent.
Watch Cole's performance at the London station in the video below!
Please SHARE this with your friends and family.