Rod Stewart and Michael Bublé, two musical titans with distinct styles, graced the BBC Radio 2's Breakfast Show with a performance that left audiences craving for more.
Their collaboration turned out to be a remarkable display of talent and camaraderie that showcased the enduring appeal of these legendary artists.
As Rod belted out Bonnie Tyler's classic hit, "It's a Heartache," his gravelly voice breathed new life into the song's punchy melody.
Backed by a talented ensemble of backup singers, guitarists, a keyboardist, and even an accordion player, the performance was nothing short of spectacular.
The presence of Michael Bublé added an unexpected layer of excitement to the proceedings, making it a real treat for the morning listeners.
Michael Bublé, initially content with being a spectator, watched the performance from his corner, enthusiastically clapping and nodding along.
Little did he know that he was about to become more than just an audience member.
In an unexpected turn of events, Rod Stewart invited Bublé to join him at the microphone, catching the Canadian crooner off guard.
Bublé's initial hesitation was palpable as he tried to find his footing in a song that was decidedly not from his usual repertoire.
It was a relatable moment for many, akin to being dragged onto a dance floor to navigate a song you barely know – a situation that is equal parts terrifying and exhilarating.
But then, something magical happened.
Michael Bublé found his rhythm, and his smooth voice seamlessly blended with Rod's edgier tones.
It wasn't a flawless performance, but it was authentic, and it was live. It was a genuine musical moment that left fans yearning for more of this dynamic duo.
The impromptu duet between Rod Stewart and Michael Bublé is a must-watch for music enthusiasts and anyone who appreciates the joy of spontaneous collaboration.
It shows the magic that can unfold when two powerhouse performers come together, even if by surprise.
In a world where meticulously planned and polished performances dominate the music industry, this unexpected musical encounter is a refreshing reminder of the raw talent and genuine connection that can arise when artists let their guard down and simply have fun with their craft.
To experience the delightful spontaneity of this memorable musical rendezvous, be sure to check the video out. It's so fun to watch these two bring new life to this song and add their own special spin.
It's a performance that reminds us why Rod Stewart and Michael Bublé continue to be celebrated as icons in the world of music, their timeless charm and undeniable talent shining brightly, even in unscripted moments like this one.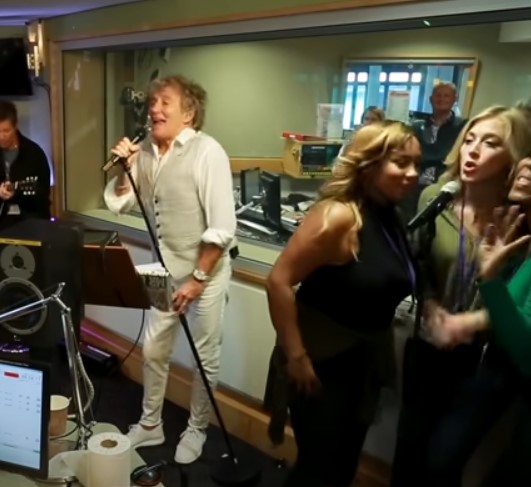 We could watch these two perform anything together — even the phone book would sound great if they sang it.
Check out the incredible performance in the video below!
Please SHARE this with your friends and family.
Article Sources:
Source: BBC Music