In the bustling streets of California, a rare chance encounter unfolded between Reginald Guilluame, widely known as "guitaro5000" on the internet, and an unexpectedly talented guy from the crowd.
A humble star mixed in the crowd
To the delight of many, the man was none other than Micah Christian, the lead vocalist of the acclaimed quartet group known as the 'Sons of Serendip.'
The Sons of Serendip have earned recognition for their distinctive fusion of classical music with pop, gospel, and soul influences. Their performances are characterized by captivating harmonies, intricate arrangements, and a profound emotional depth.
Notably, they have released several albums, including their self-titled debut album "Sons of Serendip" in 2015, and "Christmas: Beyond the Lights" in 2017.
Joining Micah Christian in the Sons of Serendip are the talented musicians Cordaro Rodriguez, Kendall Rasmeur, and Mason Morton.
"Sing With Me For Free"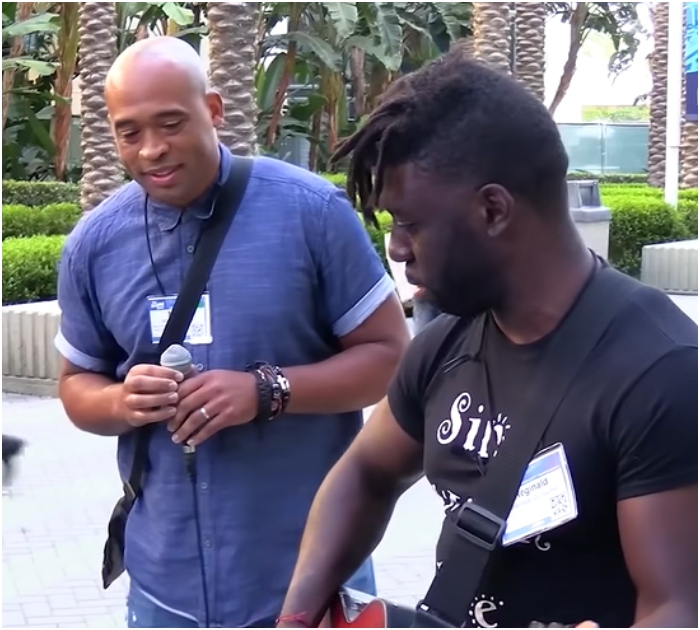 Meanwhile, guitaro5000 has gained popularity through his online videos, often featuring him and inviting random individuals to sing with him, creating spontaneous and heartfelt musical moments.
On his YouTube channel, guitaro5000 shares his diverse content, promising viewers:
Enchanting renditions of your favorite songs are guaranteed to bring a smile to your face.

Original compositions reflect the resilience in life when faced with challenges.

Informative lessons on creating drum sounds on the guitar, enabling you to produce rhythms that resonate with your soul.

Heartwarming encounters with strangers on the street, encouraging them (and you) to conquer fear and express their authentic selves.
Before their impromptu performance, guitaro5000 and Micah engaged in a brief yet meaningful conversation about their shared passion for music.
Hope in the middle of a crisis
Micah revealed that in 2020, amidst the COVID-19 outbreak, his group released a music video addressing pressing issues such as the pandemic and racial discrimination—an important and relevant subject matter at the time, which remains significant today.
The decision to release the music video stemmed from their belief that music serves as a powerful conduit for healing, unity, and shedding light on often overlooked matters.
As Micah began to sing his heartfelt version of "A Change Is Gonna Come" by Sam Cooke, accompanied by guitaro5000's skillful guitar playing, the crowd was left astounded. His flawless rendition had the ability to captivate even the busiest passersby.
Micah's vocals were nothing short of awe-inspiring—powerful, resolute, and filled with emotion. Before long, an increasing number of people gathered around to relish this impromptu yet extraordinary street performance.
They need to be heard
Truly, the Sons of Serendip and guitaro5000 deserve a larger and more prestigious stage to showcase their talents, beyond the confines of street performances.
Don't you agree?
To no surprise, the video capturing their performance garnered over 3.7 million views and received over 100,000 likes from online viewers.
One viewer commented, "This singer has a special gift. His voice is magical, it really touches my heart. And you, Reggie, you hold your own with the best and the worst of them. You bring out the best in people. I love what you do, you are raising the vibration in your environment."
While another one was deeply touched by their performance, "I just found your channel. I have to say that I think I have witnessed one of those moments in time when God or whoever your higher power is reached down and put two people together. I know in my heart that everyone who was there that day, as well as all those who have watched the video have been touched in a way that started healing in it's so many different forms. Thank you and bless you."
Music possesses a mysterious force that transcends mere notes, melodies, and rhythms—it has the power to unite people even in a divided nation.
Watch Micah and guitar5000's amazing street performance in the video below.
Please SHARE this with your friends and family.