"Footloose" is a song that you can add a lot of energy to while performing live.
Many groups have chosen to perform this song, but none have performed it in quite the same way as the Kentucky Vocal Union!
It took place at the International Barbershop Chorus Competition in Portland, Oregon.
Every year, singing ensembles from across the world gather to test their skills – each hoping to bring home the gold medal.
The dozens of Kentucky Vocal Union members took the stage all wearing black dress clothes. Little did the audience know they had a unique surprise up their sleeves.
Kentucky Vocal Union (KVU) is based out of Louisville, but it is comprised of vocalists from many parts of Kentucky and nearby states.
They're considered a contemporary Barbershop chorus, which according to their site, "…is for serious singers who want to enjoy close harmony in a high-level group."
Their mission is as follows:
"The Kentucky Vocal Union is committed to sharing excellence in a cappella singing through performance, fellowship, and community involvement."
Right away it was clear KVU's performance would be far from boring.
The guys actively paced the stage pretending to be disgruntled.
About what you may ask? The fact that they couldn't dance!
If you've seen the movie Footloose, then you might remember that it's about a town that actually bans teens from dancing. Kevin Bacon's rebellious character, Ren, is new to the area and has a hard time accepting the rules.
KVU puts on an entertaining opening that goes along with the film. All together they sing, "Gotta get out of this town – need time to dance around!"
Get ready, because it's about to go to a whole other level.
The member in the front rips open his black shirt to reveal a white one underneath. A little nod to Ren's warehouse scene, you might say?
Suddenly, the ensemble begins singing the actual tune "Footloose" by Kenny Loggins. For decades it's been a song that's had people cutting loose – so it's not surprising that the crowd was excited.
The KVU singers not only combined their voices, but they also had an entire routine planned out. After some shoulder thrusts and punch moves, a second member tears open his shirt. Only he's in bright green.
Then more and more of the guys do the same, revealing colors from all over the rainbow. Just like in the movie, it's like they're rebelling!
Kentucky Vocal Union's a cappella version of "Footloose" is enjoyable to listen to.
Their performance continues to evolve as well, with all the guys revealing colored shirts and eventually ditching their jackets.
It's a fun and original act that might have you grooving along. In the end, KVU even took home the competition's bronze medal.
Barbershop singing groups are an excellent way to bring people together through their passion for music.
On the Barbershop Harmony Society's site they say:
"In times of conflict and exclusion, barbershop inspires us to blend, to cooperate, to create beauty and to love each other."
They also point out that it's great for improving one's emotional and physical health, building healthy communities, and reducing barriers between diverse groups and cultures.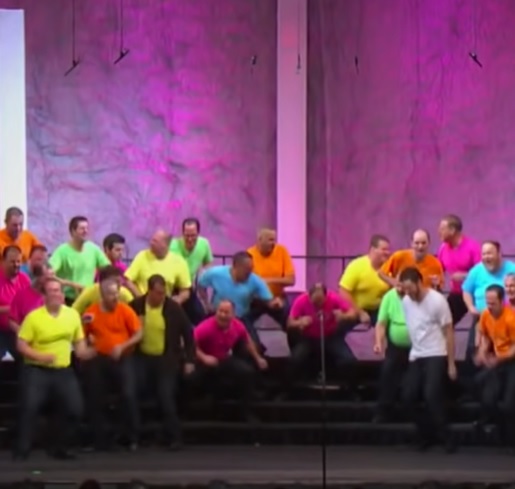 The KVU put their heart and soul into this performance, and it's truly so fun to watch.
If you're in need of a good smile today, check out this performance below!
Please SHARE this with your friends and family.