Plenty of people want to grow old with a significant other.

Life is difficult to endure alone, and having someone you love by your side can be the greatest comfort. As this couple proves to us, nothing is impossible with love. In a video uploaded on YouTube which has now racked up 11 million views, an elderly couple can be seen impressing everyone in the room with their piano skills.
Meet Fran and Marlo Cowan, a power couple living in Jacksonville, Florida.

They were already married for over six decades when the video was taken yet their love is still evident in every glance and smiles they exchange with each other.
This couple is the new "relationship goals" as the millennials call it.
Both of them were hunched over the grand piano in the atrium of Mayo Clinic in Rochester, Minnesota.
This specifically concerned me since this position could give them extreme back pain. Nevertheless, the couple commenced with their little show. They tapped the piano keys quickly and with nimble fingers. They synchronize with each other, both oozing so much energy and confidence. The whole time, Fran keeps glancing at the camera with a huge grin on her face—you can clearly see how happy she is!
Marlo, on the other hand, is full of vigor in his own performance as well

The piece they are playing is their rendition of "Put On Your Old Grey Bonnet" by Haydn Quartet.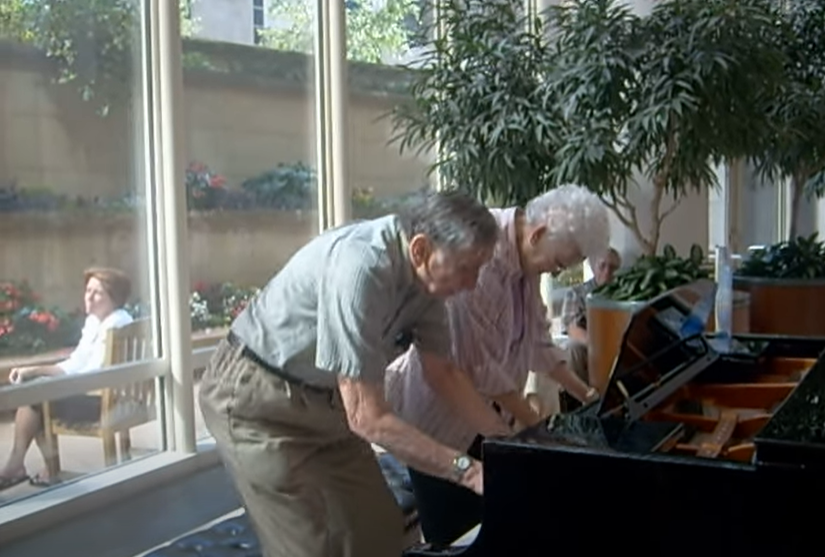 The song was released in 1909 by the Haydn Quartet, a popular harmony group formed in 1896 as the Edison Male Quartet.
When they started recording for labels other than Edison in 1899, they began using the name Haydn Quartet. The group usually sang sentimental ballads, old standards and hymns.
As the couple continues their performance, Fran can't help but look at Marlo as she notices her husband is too energetic for his own good.
Not only does he match the song's tempo with his body bobbing up and down, but he also dramatically pushes the piano bench backward, earning him some laughter from the person recording the video.
After that, Fran and Marlo suddenly switch places in front of the piano and resume their performance.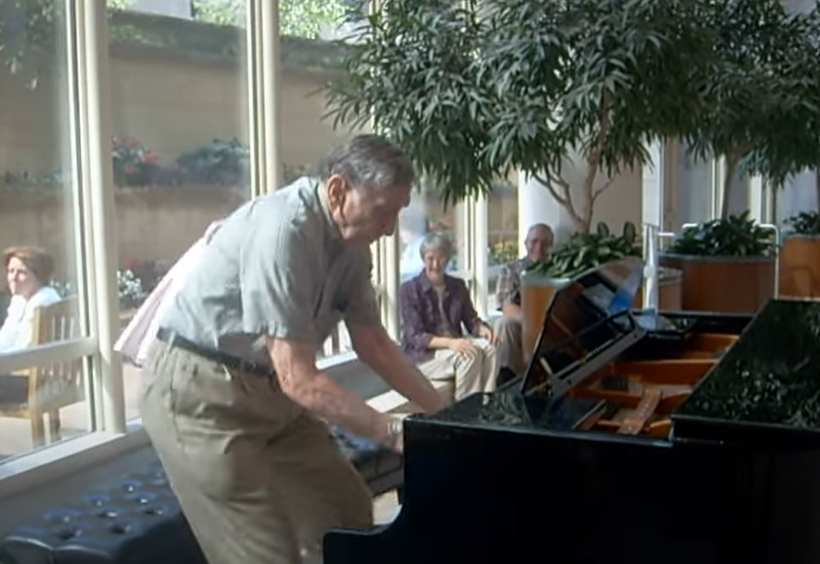 No wonder they opted to stand while playing the piano instead of being comfortable on the bench!
The couple decided to add some tricks to their routine making it one of a kind, and the crowd can't help but laugh at their little stunt.
The couple continued with their switching act—but Fran, unfortunately, fell on the bench while doing so.
However, she quickly got back on her feet and resumed playing like the professional she is because the show must go on.
The golden couple continued to play jauntily for the people waiting in the lobby, entertaining them to their heart's content.
This just goes to show that old age might weaken our bodies, but it doesn't have to weaken our hearts!
Age is just a number, and if we stay active and practice, our talents will never fade. As this adorable couple shows, we can have fun every day of our life all the way to our golden years. What a great show this was!
Be sure to watch the whole performance in the link below:
Please SHARE this with your friends and family.
Sources: YouTube/jodihume, Second Hand Songs