If you thought the Las Vegas Strip was already sparkling, you should've seen it when Kelly Clarkson and her daughter, River Rose, lit up the stage with an emotionally-charged duet!
The Grammy-winning singer, who has always been vocal about her tight-knit relationship with her kids, took family bonding to a whole new level during her Las Vegas residency.
The adorable moment unfolded during the Wednesday performance of "Kelly Clarkson: Invincible," where Kelly invited her 9-year-old daughter to join her on stage.
Picture this: River Rose, looking like a miniature fashionista in a sparkling dress, holding her mom's hand and sharing the mic.
The crowd went absolutely wild, proving that star power might just be a family trait!
The dynamic mother-daughter duo performed "I Will Always Love You," a classic that has been sung by both Whitney Houston and Dolly Parton.
River Rose gave a heartwarming and raw performance, showcasing her own vocal talent and proving she's got the "it" factor like her mom.
Kelly was visibly moved, wiping away tears as they sang, making it a memory to treasure forever.
So, why this particular song?
In an interview, Kelly revealed that "I Will Always Love You" is River Rose's favorite.
She stated, "It's my daughter's favorite song to sing. She walks around the house singing it. She's pretty much begging me to do this song, so we'll see if she freezes or not."
That's one loving mom who listens to her daughter's musical tastes!
And did River freeze?
Absolutely not!
She was fearless, nailing every note and even engaging with the audience.
People were so moved that social media buzzed with videos and pictures of the special moment.
The applause was deafening, and it was clear that River had nailed it.
Kelly, being the super-mom she is, made sure to give her daughter a lot of support and praise.
She said, "Oh my gosh, I was about to cry the whole time. She's 9, y'all! She's freakin' 9!"
Her excitement was palpable, and it was obvious she couldn't be prouder of her daughter's onstage debut.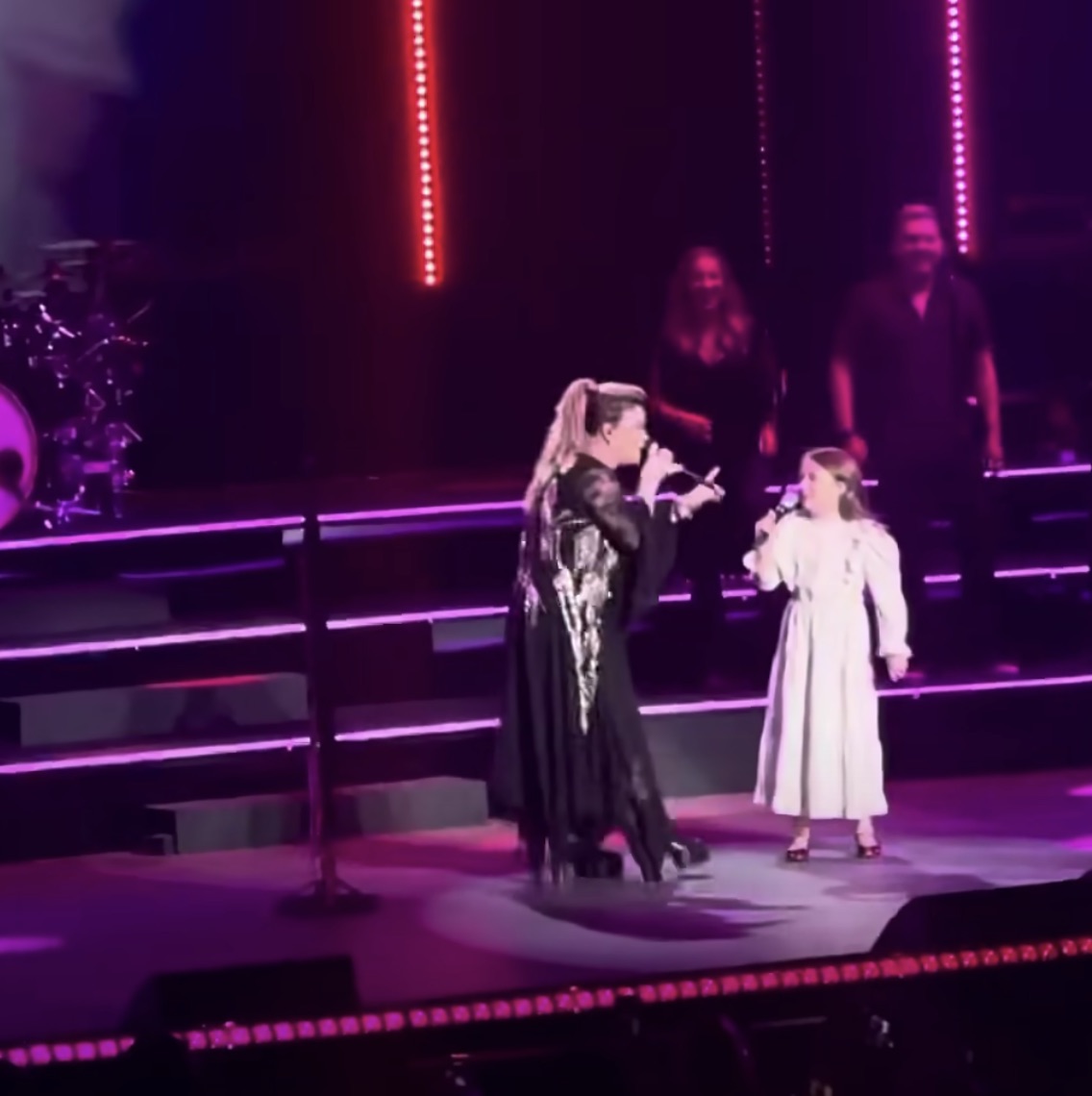 This performance was more than just a cute moment—it was a symbol of the deep love and connection that Kelly and River share.
It's not every day that you get to see a superstar share the limelight so willingly, and with such genuine emotion.
Both their smiles were so genuine; you could tell this was a moment neither of them would ever forget.
This isn't the first time Kelly has brought family into her work life.
The talk show host and singer often shares stories about her kids and family, even dedicating songs to them during performances.
She understands the value of family and seems determined to keep those bonds strong, no matter how busy her schedule gets.
So there you have it—a heartwarming story of a mother and daughter making beautiful music together.
If you missed out on this touching Vegas performance, don't worry!
The internet is filled with footage for you to experience the love and talent shared by Kelly Clarkson and River Rose.
Now, that's what you call a shining moment on the Las Vegas Strip!
Watch the adorable mother-daughter moment in the video below.
Please SHARE this with your friends and family.