A gatecrasher on your wedding day? Yikes! A total disaster, right?
We want our weddings to be perfect – every detail – because this only happens once. But a gatecrasher is not a welcome surprise on any occasion, especially at weddings. Imagine the chaos it might bring to a solemn event.
But what if the gatecrasher is a celebrity?
That would be out-of-this-world, especially if we don't know any (or anybody who knows any celebrity).
It would be awesome, don't you think? Luckily, for some, it happened, and it's not even out of a special request.
This couple in England was surprised to find Keanu Reeves during their wedding.
Yes, Keanu Reeves.
The couple had the wedding of their dreams, and this gatecrashing surprise was the cherry on top.
After all, it's not every day that a celebrity is at your wedding.
James and Nikki Roadnight had a beautiful wedding ceremony.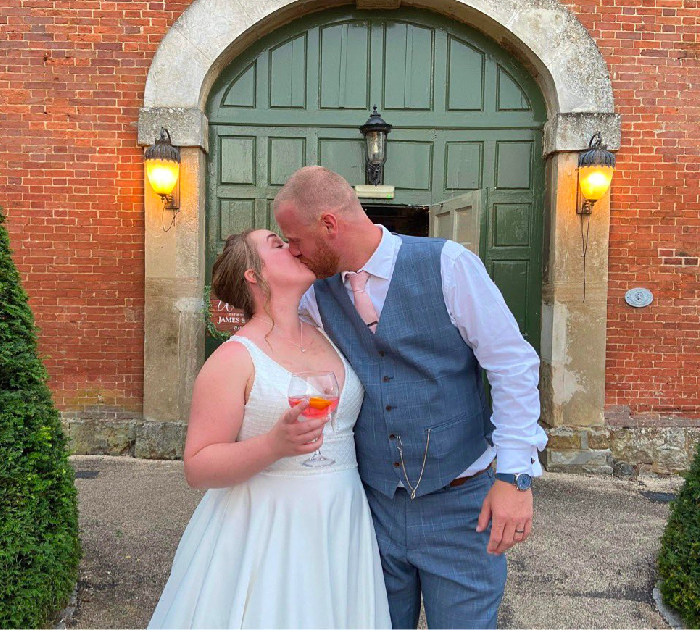 They tied the knot at the most sublime view at the Fawsley Hall in Northamptonshire, England
. The two had the most beautiful moment of their lives, along with their daughter.
They shared a toast, a kiss, and… a photo with Keanu Reeves.
If there was a perfect example of 'right place at the right time,' this is it.
Keanu stayed at the same hotel in the U.K. as the couple's wedding venue.
He was in the hotel bar when the groom, James, stopped by after the wedding ceremony to take a quick break before the reception.
That's when he spotted Keanu and casually invited him to surprise his wife, Nikki, who was a huge fan.
The question at that moment was, 'will he come?' Alas, he did, and what a surprise it was for Nikki!
Keanu arrived an hour later and asked for one hotel staff's help. Nikki was surprised by what the hotel staff told her: "a special guest" wanted to talk to her outside. It was the shock of her life when she saw who it was. What a very special guest, indeed.
The newlyweds took some photos with the Keanu with the beautiful venue as their background.
He did not stop at delighting the couple because he also took some time to talk with their guests. Isn't Keanu the most awesome person on the planet?
Nikki's excitement led her to change her Twitter profile photo to THIS.
A photo of her and Keanu Reeves – of course.
Most wives would change their photos to that of their wedding photos with their husbands, but this is not the case for the new Mrs. Roadnight.
She relished that moment she met her idol… at her wedding!
🤣 Mr Roadnight won't mind just for a few days 🤣🤣

— Nikki Roadnight (@MrsNRoadnight) August 23, 2022
One Twitter user pointed that out, and Nikki casually replied (all in good humor): "Mr. Roadnight won't mind just for a few days."
This isn't the only time Keanu Reeves gave in to a fan's request.
He is known for being one of the most wonderful celebrities out there because of how he treats the people around him, especially his fans.
You can read more of his interactions with people in this article.
Watch the full story of this incredible wedding surprise in the video below.
Cherie Gozon is a contributor at SBLY Media.