Reading about the sweetest celeb couples seems to be a favorite for many people.
I can easily see why.
Some people's lives are so wholesome that just hearing about them is enough to improve your mood.
And in an industry plagued with things like cheating scandals, divorces, domestic disputes, and other nasty stuff, it makes you appreciate the couples who manage to stay together.
In this case, the sweet celeb couple we're looking at is Jamie Lee Curtis and Christoper Guest.
What can I say about Jamie Lee Curtis that hasn't already been said?
Curtis is an outstanding performer and one of Hollywood's most beloved actresses.
At 62, she's bagged some big roles and proved she can act in any genre.
She made a name for herself in the Halloween franchise of horror films.
We also know her for being Hannah's mom in Freaky Friday, probably the role most young people know her by.
But when she's not screaming in horror or playing someone's mom, Curtis spends most days with a smile, knowing she's married to Guest.
And believe me when I tell you she was in love with him from day 1.
As the story goes, Jamie Lee Curtis was browsing a copy of Rolling Stone magazine with a friend and noticed three well-presented men on one of the pages.
One of these men had a smirk that captured her immediately.
"I'm going to marry that man," she said to her friend as she pointed at the photo.
That man was Christopher Guest, whom she was yet to meet.
View this post on Instagram
Curtis was a woman of action.
She gave her contact details to his agent and a message asking him to call her.
You can't say she wasn't determined. And sadly, he didn't call her that time.
She'd meet him shortly at a Hollywood restaurant.
Curtis seized the opportunity and waved at him.
This time, he acknowledged her. Guest waved back.
Then he called her not long after. The two went on a date and slowly fell in love.
It took all of 4 months, which Curtis remarked was funny in hindsight.
View this post on Instagram
"So the truth of the matter is life hinged for me on a couple seconds that I didn't see coming." she said
That "If I say I'll do it, I'll do it" attitude is incredibly powerful, as she showed.
They tied the knot in 1984 and have been together ever since.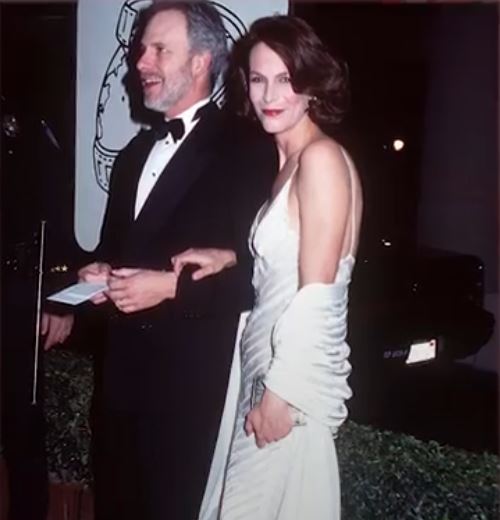 Curtis and Guest have 2 kids.
Speaking about married life, Curtis put a fine point on how it feels to come home to the person you love.
She specifically pointed to the sight of her husband's car parked at home as something that makes her smile.
In fact, this exact thing became a lyric in a song she'd write for them.
View this post on Instagram
"I feel safe when I drive up and see that you are home."
She's thankful for the day they said "I do" and all the trials and unknowns they'd faced together since then.
Big, fancy gestures of love aren't what makes their marriage, she says. It's the little, everyday things.
Maybe sitting in the passenger's seat and looking over to see your partner behind the wheel, or sharing a normal family dinner together.
Those things are what Curtis adores the most.
Christopher Guest is truly her "one and only" and you can't deny that the two have one of the sweetest marriages in Hollywood.
View this post on Instagram
Click the video below to learn more about their sweet, 38-year love story!
Please SHARE this with your friends and family.
Luis Gaskell is a contributor at SBLY Media.