One of the best parts about being a parent is seeing your kid full of genuine joy.
The thought of being creative or silly enough to make your children laugh can be intimidating, but it's much easier than you think.
Most kids want their parents to be "cool" and adjust to their lifestyles.
Blame peer pressure.
But as they grow older, they realize that parents' efforts and simply being there matter most.
It's about showing up.
Those are the moments that kids remember and look back on with fondness.
Four lucky children have something hilariously heartwarming to look back on in a decade or two.
It may seem embarrassing for a while, but as they get older, the memory becomes golden.
Four fathers came together to perform a rendition of Russian composer Pyotr Ilyich Tchaikovsky's Swan Lake.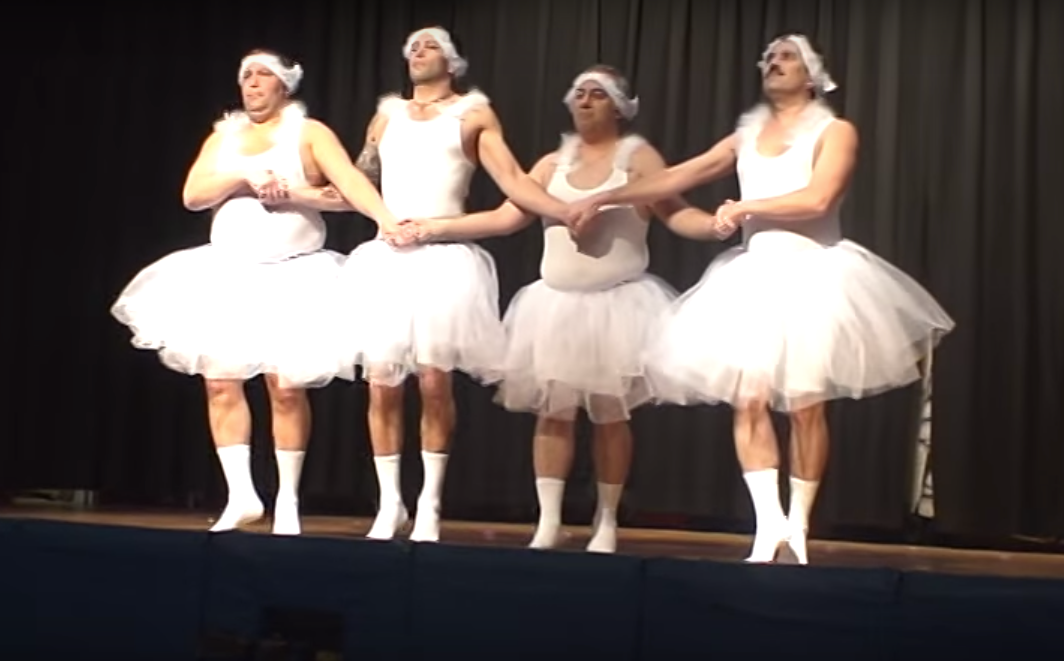 The ballet is immensely popular and has been performed many times over the years.
These dads are performing at Lincoln Elementary School's, Wyckoff Dad's Night, in Wyckoff, New Jersey.
The night has become so popular, it even has its own website!
Perhaps we have these men to thank…
They had over 60 dads perform!
But the organizers know just how much Dad's Night means to the families.
"You can only imagine the delight in your child's eyes when you walk out on stage. To them, you become a superhero. You can do no wrong. If you want your child talking about you for the next 6 months, get up on stage and have some fun."
That's what these four dads did!
The first two dads tiptoe across the stage like skilled ballerinas while the two following them walk out with hilarious confidence.
The fathers grab hands and begin prancing across the stage in unrhythmic, poorly coordinated movements.
It's hilarious, and the kids are getting a kick out of it.
Did they… practice for this?
Was practice just a bunch of guys dancing around after a few bottles? Hmm…
The crowd is so loud they can be heard over the music.
While moving across the stage was nice, the real attraction was their attire.
The men are wearing full ballerina outfits, seemingly designed for women.
But instead of wearing tights, they wear long, white socks.
Hey, even Robin Hood wore tights.
They're also wearing white veil headdresses on their heads.
These dads certainly put their heads together for this one!
They switch things up by running in place while still holding hands. The running then turns into jumping.
These guys must have been exhausted.
After all, ballerinas have to land gracefully and have their feet planted a certain way.
They execute spins remarkably well!
The dads then end the routine by falling onto their knees.
The audience loves it!
Click the video below to see these hilarious dad-erinas in action!
Please SHARE this with your friends and family.
Jenny Brown is a senior writer at Shareably. She is based in San Francisco and can be reached at
[email protected]