The world of country music is littered with superstars, but there's something uniquely special about Luke Bryan.
It's not just his staggering list of twenty-one number one singles or that he's performed to a crowd numbering in the millions—over 1.5 million fans, to be exact.
What sets Luke apart is his incredible humility and his enduring connection with the very people who made him a star: his fans.
But not just any fans, we're talking about the youngest, most awe-struck members of his audience who he routinely invites on stage for a once-in-a-lifetime singing experience.
Picture this: You're five years old, your cowboy boots are freshly polished, and you find yourself sharing the stage with none other than Luke Bryan himself.
For a little girl named Bella, this dream became a reality, and she absolutely stole the show.
But she didn't just steal it; she became the heart and soul of the night.
And this was not a moment just for Bella's baby book; the audience was equally captivated.
So where did this magical duet happen?
In the cozy, music-loving town of Bristow, Virginia.
Fans were already having a great time swaying to Luke's hits when he decided to make Bella's dreams come true.
He beckoned her on stage to share the spotlight and sing along with him.
Here's the kicker: Bella wasn't just an awe-struck fan pulled out from the crowd; she was a mini-pro in disguise.
She didn't just know the chorus or a verse; this little dynamo knew every single word to "Kill The Lights," one of Luke's popular songs.
Initially, she was set to sing a brief part, but Luke was so amazed by her singing and lyric memorization skills that he immediately told the band, "Let's play the entire song!"
During their performance, Luke couldn't help but voice his astonishment.
"You know my music better than my five year old," he declared in a moment of genuine surprise.
What followed was nothing short of magical: they performed the entire song, and Luke was visibly ecstatic.
Adding a dash of pizzazz to her performance, Bella sported a blue top and pink cowboy boots, even carrying her own hand-crafted sign to the stage.
The outfit was adorable, but it was her pure enthusiasm that captured the hearts of everyone in attendance, including Luke, who was absolutely smitten.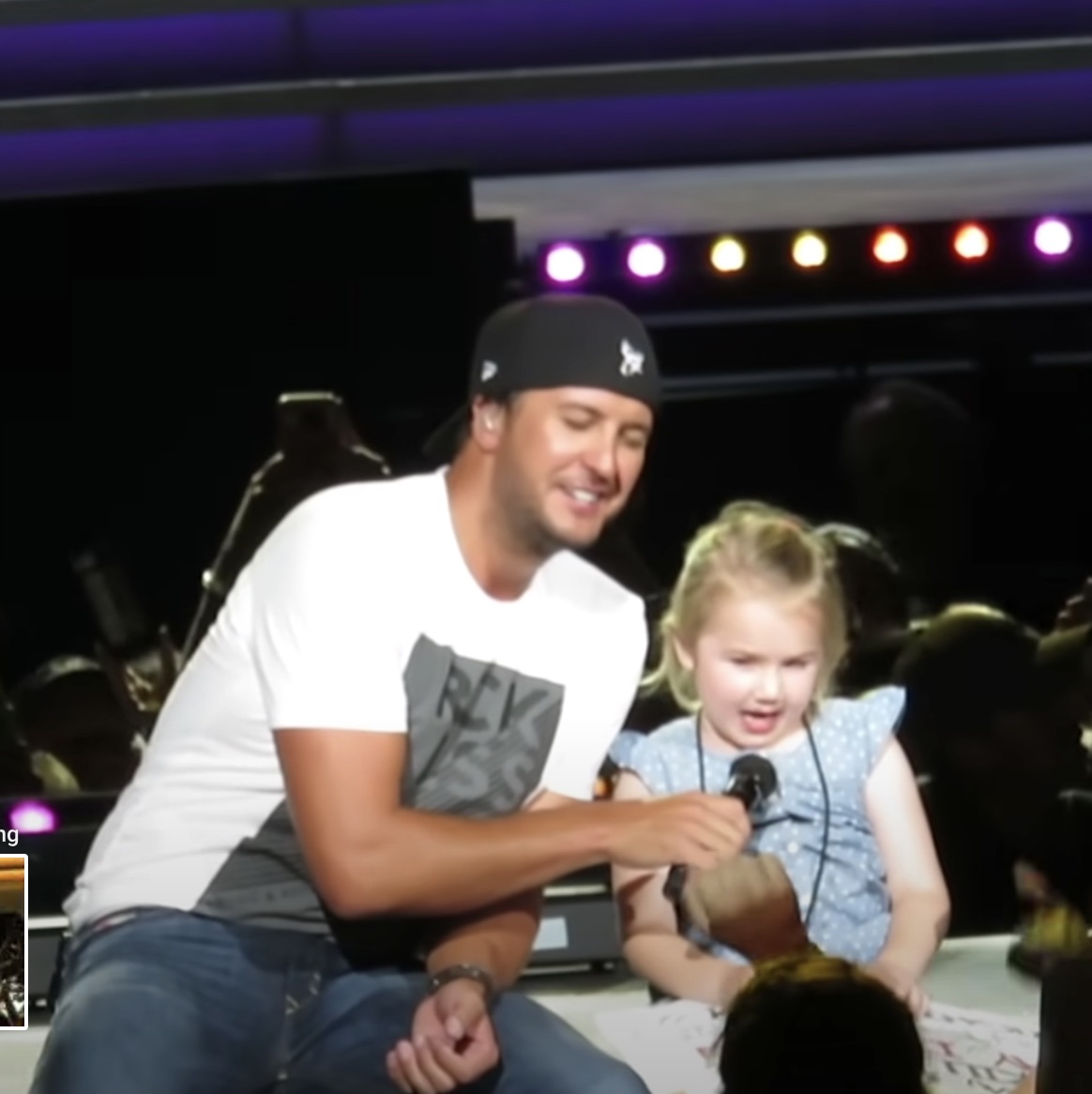 The look on Luke Bryan's face?
Priceless.
It was an expression of pure, unfiltered pride.
You could tell he was profoundly moved by this extraordinary moment.
Yet, the show had to continue.
They both delved right back into the performance, creating a night to remember for every single person in that audience.
But Bella was not even a bit intimidated by the thousands watching her.
She was fearless, sharing the spotlight with one of her idols, even throwing in some cute dance moves.
And Luke, being the gem that he is, allowed her to take center stage, further proving his endless commitment to fans of all ages.
The fan reactions were as heartfelt as they were numerous.
One person effused, "What a genuinely awesome guy Luke Bryan is. Nothing beats those country boys, they were certainly raised right."
Another fan was clearly over the moon: "Just when I thought I couldn't love Luke Bryan anymore! 💕💕💕💕😍."
And then there was the moment that Luke tenderly brushed Bella's hair out of her face.
This simple, fatherly gesture melted hearts across the board, prompting one fan to note, "I love how he kept brushing her hair back, just like a Daddy would do. Luke sure does love his young fans."
It all adds up to a simple yet poignant truth: beneath the star-studded accolades, Luke Bryan is a down-to-earth superstar with a heart that's absolutely golden.
So if you're ready to witness the ultimate feel-good performance, don't miss their irresistibly adorable duet in the video below.
It's as sweet as it gets!
Please SHARE this with your friends and family.