No matter how many candles are on the birthday cake or how many miles separate them, some daughters will forever be "daddy's little girl."
And let's not forget, the sentiment often goes both ways.
For many fathers, their daughters will always be their "little princess," no matter how grown-up she gets.
One father decided to make his daughter's wedding day unforgettable with a heartwarming surprise.
He had a special song up his sleeve that was so touching, it turned the entire church into a sea of teary eyes.
Weddings are often a playground for creativity, where couples go the extra mile to make their big day stand out.
Whether it's a choreographed dance that shocks everyone at the reception or a unique twist to the ceremony, people love to infuse their weddings with a dash of the unexpected.
This particular dad had something extraordinary in mind.
Sure, he was going to walk his daughter down the aisle, following the age-old tradition.
But he wanted to add a sprinkle of magic to the moment, making it unforgettable for both of them.
As it turns out, this father had a hidden talent: a voice that could melt hearts and stir souls.
His special gift to his daughter was to serenade her as they took those life-changing steps toward the altar.
The atmosphere was electric as they entered the church, standing at the far end of the aisle.
The father took his daughter's hand, looked into her eyes with a love only a dad can give, and began to sing "Walk With You" by Edwin McCain.
The song's lyrics are so poignant they could make even the most stoic person shed a tear.
As he sang, he beautifully articulated, "I'll take this slow sweet walk with you.
You'll let go of my hand to say I do.
And he has discovered how blessed a life can be – I know 'cause all those years ago someone handed you to me."
The song choice was no accident. Edwin McCain penned "Walk With You" specifically for a friend's daughter who was getting married.
At the time, McCain was also expecting a daughter, making the song a heartfelt expression of a father's emotions as he walks his daughter down the aisle.
McCain once told The Morning Call that the song was a "touching deal" and emotionally charged, saying, "It was hard to get through that song for the first year or so I was playing it. … It's definitely a heavy song."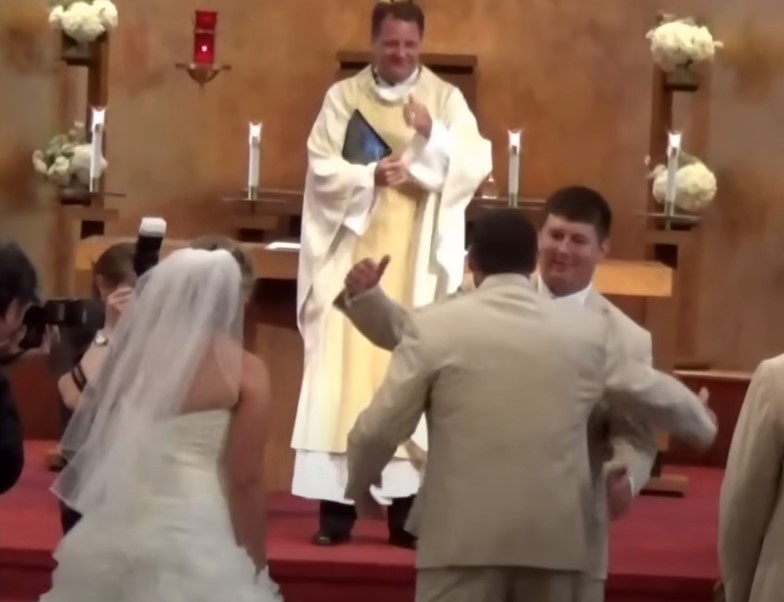 As the father and daughter continued their "slow sweet walk," the congregation was visibly moved.
If there had been boxes of tissues available, they would have been passed around like hotcakes.
Even the pastor couldn't help but wipe away tears.
The bride maintained her composure, but it was clear that her father's love enveloped her in that moment.
He continued to sing, "I can't help thinking that I'm the lucky one – you're still my baby daughter, and now I've gained a son."
The emotional power of this moment wasn't lost on the internet.
The video of this father serenading his daughter went viral, racking up more than five million views.
Comments flooded in, with one person saying, "Man this is beautiful. Tears running down my cheeks," and another adding, "This is beyond touching!
What an amazing father!! LOVE this!"
Indeed, a wedding is a day most women dream will be unforgettable, but what this dad did for his daughter elevated the occasion to a whole new level of memorable.
Watch this heartwarming moment in the video below!
Please SHARE this with your friends and family.