When it comes to instrument-specific musical groups, the ukulele is about as strong of a frontrunner as they come.
While it may have to share the limelight with drums and bagpipes in terms of greatness, there's no question that the uke is in a class of its own.
The only thing better than the sound of a ukulele is dozens of ukuleles playing at once.
At a mall in Belfast, a group of talented ukulele livers performed for the crowd.
People gathered to witness and appreciate their rendition of a popular country song.
And when we say "popular" we really mean megahit.
"Blue Ridge Mountain, Shenandoah River," they sang in unison while strumming their "little guitars."
One can't help but sing along to John Denver's Take Me Home, Country Roads.
The group is made up of members from different age groups. From the white-haired and bearded to the young and energetic, their passion for the ukulele knows no bounds.
At one point, a little kid even joined them while they were performing.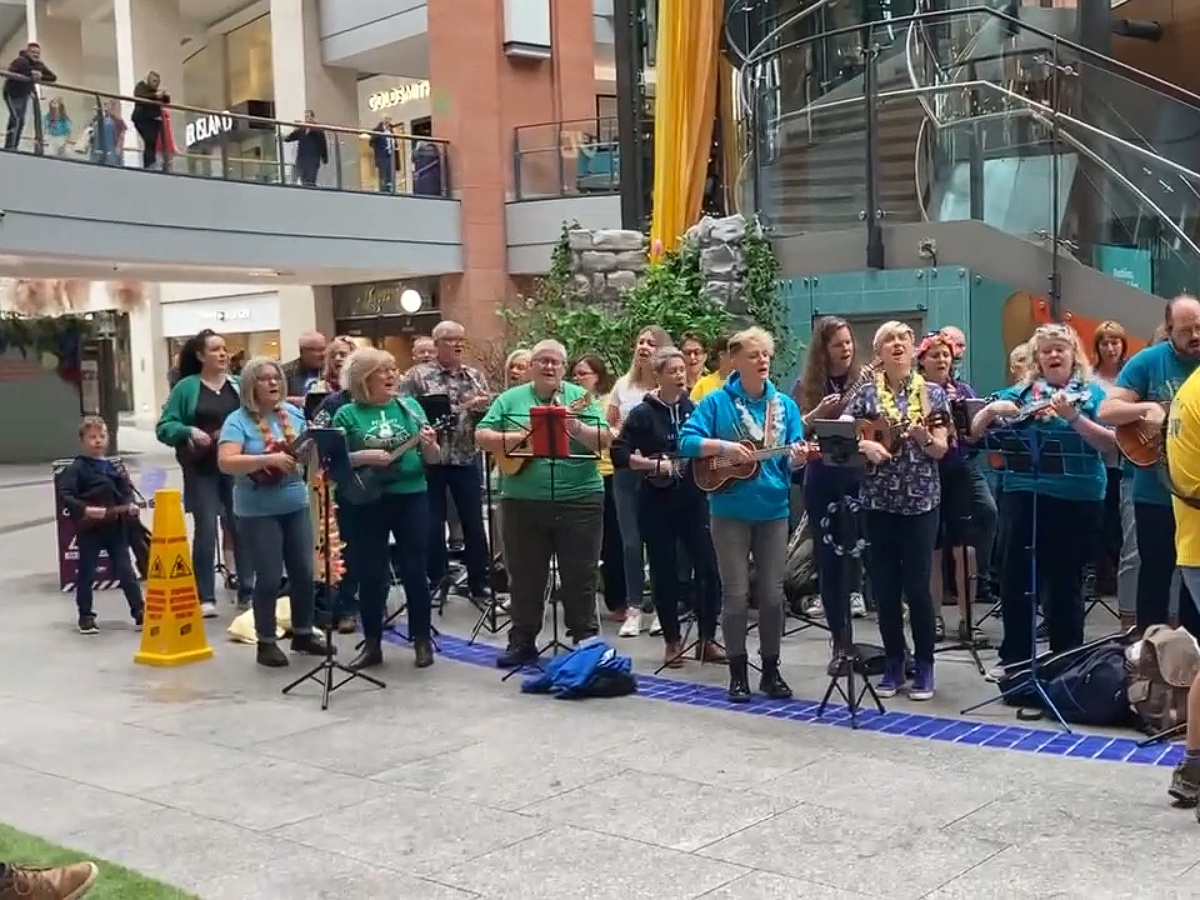 Beyond the rattle and the beatbox, you can hear the distinct ringing of the strings.
For most people, the ukulele reminds them of palm trees, beaches, and the sounds of the crashing waves. This relation, however, is well-founded.
The ukulele enjoyed widespread fame after landing on the islands of Hawai'i. The instrument was based on similar guitars that Portuguese migrants brought to the islands.
The ukulele is shaped much like a regular-sized guitar but it only has four strings.
Three Portuguese immigrants, all of whom were furniture makers, created the first of these instruments.
Through the patronage of the last king of Hawai'i, King Kalakaua, it found its way into Hawai'ian arts and culture.
Since then, we've seen famous songs rendered into ukulele versions.
"Over the Rainbow" is a perfect example, especially Israel Kamakawiwo'ole's version.
Among others are "Can't Help Falling in Love" by Elvis Presley, and Jason Mraz's "I'm Yours."
Through this version from the Belfast Ukulele Festival, maybe we're also looking at a new all-time favorite to add to that list.
There's something amazing about seeing passionate people do the thing they love.
The Belfast Ukulele Festival started as such – a gathering of people with the same interest.
According to their website, it all started just like "how all good ideas do," which was from a drunken conversation between enthusiasts.
In the beginning, the group met once a week at a local bar where they performed.
Their membership has grown since then and they've since been giving workshops, open mic sessions, and concerts.
People all over the internet loved their performance.
They adored the group's talent and enthusiasm and some were even asking if they have an album or concerts near their area.
The video has tens of thousands of views.
The song may not be for everyone, but it is most definitely for Country-loving ukulele fans.
In all seriousness, though, their rendition is really quite amazing.
When they raise their hands to clap out the rhythm as they chant "Take me home, country roads," it gave me goosebumps all over.
We hope this group makes it big to spread their love for music to the world.
You can catch their acts and schedules on their website and get updated on what they're up to through their Facebook account.
They also have workshops lined up for basic learning, advancing your hobby, and enrichment courses for more sophisticated techniques.
Watch this amazing ukulele rendition of John Denver's "Country Roads" below!
Please SHARE this with your friends and family.