You never know what secret talents your pizza delivery guy might have – as proven by 18-year-old Bryce Dudal.
The student had been earning extra money during the summer, making and delivering pizzas in suburban Detroit.
Like many people, Bryce didn't feel that delivering pizzas was his calling, but he was happy for a job that allowed him to get out and about and fund his lifestyle.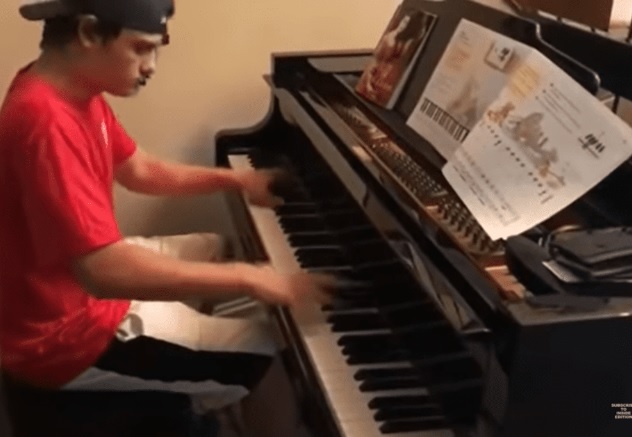 One day, during a routine pizza delivery, a piano caught Bryce's attention when he arrived at the customer's house.
Speaking to Inside Edition about what happened next, he said:
"I noticed the piano and just said, 'Oh, wow, that's a really nice piano,' and he said, 'Yes, do you play?"
As it turned out, Bryce could play the piano – he'd been practicing for around 11 or 12 years by that point.
He asked the homeowner what kind of piano he had, but the man didn't know.
He invited Bryce inside to come and check it out.
The owner was most likely thinking that Bryce would play something simple. But his expectations were far too low – and Bryce casually began to play Beethoven's "Moonlight Sonata."
The tune is one of Beethoven's most popular pieces, but it's definitely not a beginner-level song.
It demands especially quick fingers, and you have to know the keys of a piano incredibly well to have a chance of keeping up with the pace you set from the get-go.
Bryce had practiced the piece a lot because he took to the piano as if it was the most natural thing in the world and blew the homeowner away with his perfect rendition of the tune.
Realizing that Bryce's impromptu performance was too good to keep to himself, the homeowner pulled out his phone and began to film, telling Bryce that his wife would be "amazed" by what he was recording.
Bryce continued to play like a pro, unphased by the camera.
Which was lucky, because it just so happened that he was about to become a viral sensation.
When the homeowner's wife, Julie Barcetti, shared the video online, it picked up thousands of views.
Media outlets became keen to speak to Bryce, and his interview with Inside Edition has 5 million views to date.
Amazingly, Bryce is mostly self-taught.
He explained:
"My mom, when I was really young, she got me Beethoven CDs, and I used to sit there and listen to them all day."
"The music just really spoke to me, and I really would have loved to be able to play that on the piano."
"I went the distance and took the time to really, with no teacher, learn it myself."
Bryce hit his peak of fame when he appeared on The Ellen Show.
He performed live for a studio audience – and for the rest of us off-screen.
He played the piano easily and confidently at his pizza customer's home, suggesting that hours of practice have shaped him into a piano-playing natural.
At the end of his performance, Ellen announced that Bryce could keep the piano that he had performed on, and he was so happily surprised that he gave her a hug on stage.
What's for sure, Bryce is definitely one of the most talented piano-playing pizza delivery guys we've ever come across!
Click the video below to see Bryce in action!
Please SHARE this with your friends and family.
Jenny Brown is a senior writer at Shareably. She is based in San Francisco and can be reached at
[email protected]