In the serene Boulder Foothills of Colorado, Andy Thorn, a talented banjoist for Leftover Salmon, discovered he had an unexpected admirer right in his backyard.
While Andy often played his music outdoors, trying out new tunes and melodies, he never anticipated gaining such a loyal fanbase.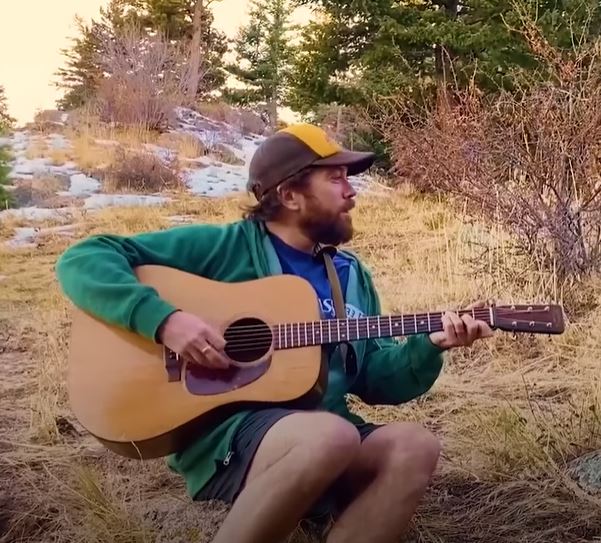 Meet Foxy, the music lover.
Among the various animals that his music attracted, from deer to turkeys, one particular fox stood out.
Andy affectionately named him Foxy.
This curious creature wasn't just passing by; he was genuinely drawn to the music.
Every time Andy played, Foxy would settle down nearby, as if attending a private concert.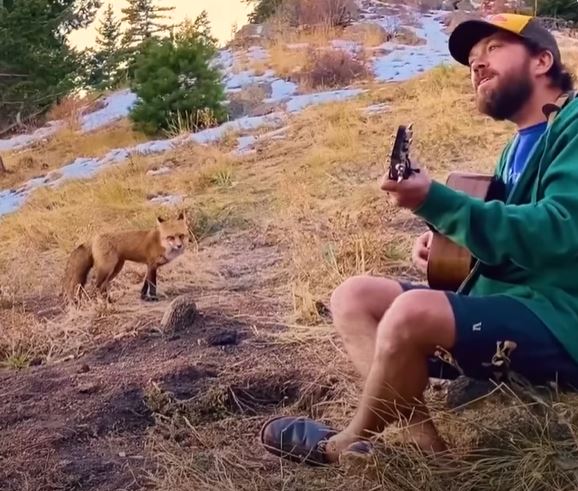 He was a fox with a preference.
Intrigued by Foxy's interest, Andy began experimenting with different instruments.
From the guitar to the fiddle, he played without any specific song in mind, letting the melodies flow.
It was clear that the banjo was Foxy's favorite.
And not just any style of banjo playing, but a particular one.
Andy told The Dodo:
"He definitely reminded me to keep it simple. I normally play the banjo with picks on, and it's a little bit flashier. He would just sort of run off or not be very interested. One day, I was playing clawhammer which is a simpler style, and I definitely noticed he was more into that."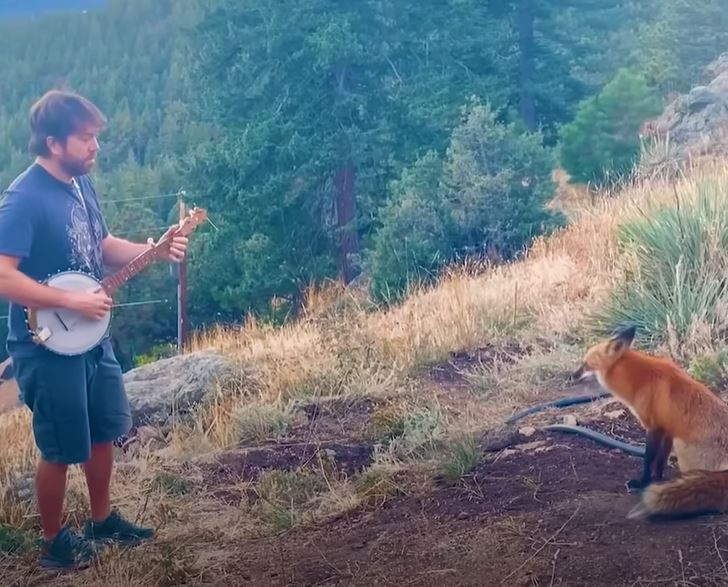 It became a family affair.
Foxy's love for music wasn't a secret.
He often brought along his sister, mother, and sometimes even his entire family to enjoy Andy's performances.
However, Andy always maintained a safe distance, understanding that not all foxes might share Foxy's gentle demeanor.
Even the weather didn't keep him away.
Foxy's commitment as a fan was unwavering.
Come rain or snow, nothing could deter him from his musical rendezvous.
On snowy days, he'd still find his spot near Andy's deck, proving that a little cold was a small price to pay for good music.
Andy shared his family too.
When Andy and his wife welcomed their son, the proud father introduced the little one to their furry fan.
Ensuring safety, Andy let his son observe Foxy from behind a glass window.
The child's excitement was obvious every time he spotted the fox.
He's very appreciative of all the unique experiences he's been given.
Andy expressed his gratitude for their home in Boulder Foothills.
Not only did they have a breathtaking view to enjoy daily, but they also had the privilege of connecting with nature and its inhabitants.
Above all, the bond he formed with Foxy was truly special.
The internet has fallen in love with their sweet bond too.
One viewer commented:
"This is priceless. What a beautiful friendship, and I love that Foxy is still a wild fox. They're not trying to tame him and make him a pet. It's perfect. 🦊"
Andy's story with Foxy is not just heartwarming but also highlights the unexpected ways in which we can form connections.
It's a reminder that music is a powerful tool, capable of forging bonds in the unlikeliest of places.
Watch the video below to see Andy serenade his fox friend with music!
Please SHARE this with your friends and family.