Many young women have the cherished experience of dancing with their fathers at special events like father-daughter dances or weddings.
However, it's not every day that a father-daughter pair gets to showcase their moves in a national dance championship.
This is precisely what Sam West and his daughter, Sidney Kimble West, achieved.
Their mesmerizing performances not only captivated the judges but also garnered admiration from online fans.
Sam's journey into the world of dance began at the tender age of nine, sparked by his mother's passion for the art form.
His early years saw him clinching two junior national titles as a junior shagger, dancing alongside partner Terri Alerty.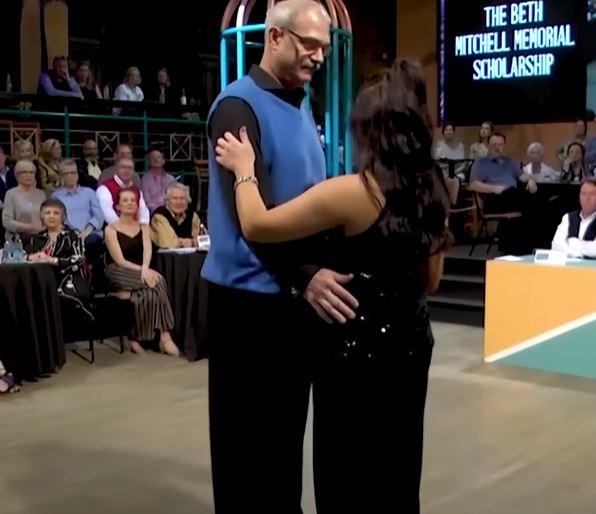 Over the years, Sam's talent only grew.
He danced his way to numerous titles and championships, partnering with various dancers, including his own sister, Sarah.
His accolades include being a seven-time champion of the Carolina Shag Division at the USA Grand National Dance Championships and a three-time US Open Shag Champion.
His exceptional skills also earned him the title of "Entertainer of the Weekend" at the Grand Nationals on three occasions.
Among his memorable performances is a country/swing routine with his wife, Lisa, who was expecting at the time.
Their love story began in 1998 at the USA Grand Nationals in Atlanta.
Despite Lisa starting her dance journey relatively late at 27, the duo's chemistry was undeniable.
They secured their first significant title in 2010, winning the Sophisticated Swing Division at the US Open Championships.
Sam and Lisa's combined talent led them to numerous victories and even a feature in a national TV commercial for Kayak.com.
Their expertise took them around the globe, teaching dance in countries like France, Spain, England, and the Netherlands.
They even offer dance lessons for enthusiasts.
With such accomplished parents, it's no surprise that Sidney chose to follow in their footsteps.
The father-daughter duo's performance at the 2020 National SHAG Dance Championships was nothing short of spectacular, earning them a standing ovation.
The emotional depth of their performance resonated with many.
One YouTube commenter expressed,
"I know Sam has to be so proud to have danced with his daughter in the Nationals and they will have special memories that they will NEVER forget. While I was watching the video my eyes were leaking."
Their chosen song for the performance was Eric Marienthal's rendition of "Stand By Me," a classic originally sung by Ben E. King in 1961.
This song, inspired by the spiritual "Stand By Me Father" and derived from Psalm 46:2c/3c, gained further popularity when featured in the movie "Stand by Me."
Its significance was recognized when it was inducted into the National Recording Registry by the Library of Congress in 2014.
Sidney and Sam's interpretation of the song was pure magic.
Their dance was fluid, their movements in perfect harmony.
As one YouTuber aptly put it, "Sam West is arguably the best shagger out there today. His smoothness and articulations on the dance floor are the best I have ever seen. I truly enjoyed this routine and interpretation of Stand by Me, just a wonderful exhibition of pure talent and joy."
Watch the video below to see this amazing father-daughter dance performance!
Please SHARE this with your friends and family.