Someone said that talent can come from anywhere. You just never know where you'll find it.
Who would have thought anyone would find a crooner like Sinatra working at a construction site in New York City?
But there he is with his karaoke machine, his standing mic, and songbook outside the Second Avenue subway construction site.
His name is Gary Russo and he's from Queens.
Every work day, he brought his karaoke machine from Queens to his worksite at Second Avenue so that, for 30 minutes, he can serenade the people around the area.
It's a pretty busy area so there are dozens of people walking by the site.
There are old and young people.
There are people who work in offices and those who work in their homes.
There are retail workers and office workers passing through that area.
For 30 minutes during his lunch break, Gary would take out his karaoke machine and belt out songs from Frank Sinatra.
Behind him, Gary would post a sign that said 'Forget all the noise, traffic and the impact of the 2nd Ave. Subway. Enjoy the music.'
How can you say no to that?
And how can you not smile when you read something like that?
"He puts everyone in a good mood. This 80-year-old guy just grabbed this, like, 25-year-old girl and started dancing with her," David Fischer, the guy who shot the YouTube video, explained.
When Gary sang, it almost felt like Sinatra was singing at that same spot.
Gary sounded just like Sinatra!
With a talent like that, it's great to know that he does what he can to share it with the world.
Maybe he tried to make it in the entertainment world.
Maybe he did try to make it as a singer but it wasn't meant to be.
Who knows what his story is?
We're glad though that he kept using his talent to entertain people wherever he or they may be.
Gary kept using his talent to share more goodness in the world.
In a world that's full of cruelty and danger, it's nice to know that there are people out there who want to add more kindness and beauty to the world.
His co-worker, Paul Rodriguez, said that there was one lady who hated the construction they were doing.
She was always looking for something to complain about.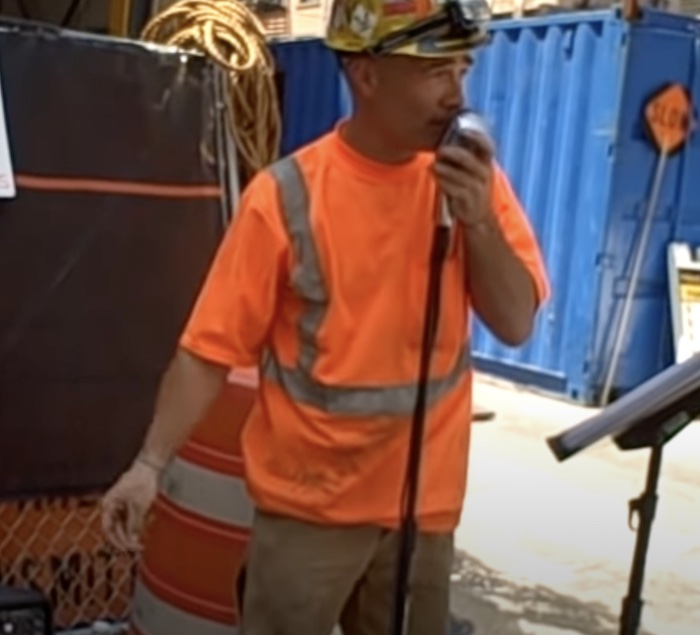 One day she was walking across the street and she saw Gary singing. It was the first time I saw her smile," Paul recalled.
That's the type of effect Gary has on his "audience."
Because come on, who can resist not being mesmerized by that voice?
In fact, his "audience" would always demand an encore each time.
And Gary, eager to entertain, would always oblige their request for an encore before he goes back to his job at the construction site.
Unfortunately, Gary is no longer with us.
It is nice to know though that years later, he is still able to inspire and charm us with his beautiful voice in this video online.
We dare you not to smile when you watch Gary perform in the video below.
Please SHARE this with your friends and family.
Jaclyn Abergas is a contributor at SBLY Media.