Under the shimmering lights of a packed arena, a spontaneous moment unfolded that would forever etch itself in the memory of a young boy named Leo.
Chris Martin, Coldplay's charismatic frontman, learned it was Leo's 10th birthday.
And not only was it his birthday- It was Leo's first concert.
Martin playfully quizzed Leo, weaving the boy's interests and life into an impromptu melody.
The audience learned of Leo's passion for soccer, his admiration for Tracy Chapman, and the bond he shared with his three sisters.
It was storytelling at its finest, with Martin crafting a narrative that was both personal to Leo and relatable to everyone present.
The arena resonated with laughter as Martin playfully juxtaposed his own allure with that of other icons.
Imagining Leo at a Justin Bieber concert or being mesmerized by Ed Sheeran's guitar skills added a touch of humor.
Yet, amidst the jests, there was a genuine appreciation for Leo's choice to spend his special day with Coldplay.
The chorus, simple in its composition, became a powerful anthem.
With each repetition of "Leo, Leo, Leo," the bond between the artist and the audience deepened.
It was a collective acknowledgment of the shared human experience, of dreams realized and moments cherished.
Martin's musings about other music legends like Jay Z, Taylor Swift, and Beyoncé weren't just name-drops.
They painted a vibrant tapestry of the music world, reminding everyone of the myriad choices Leo had and the uniqueness of the evening they were all a part of.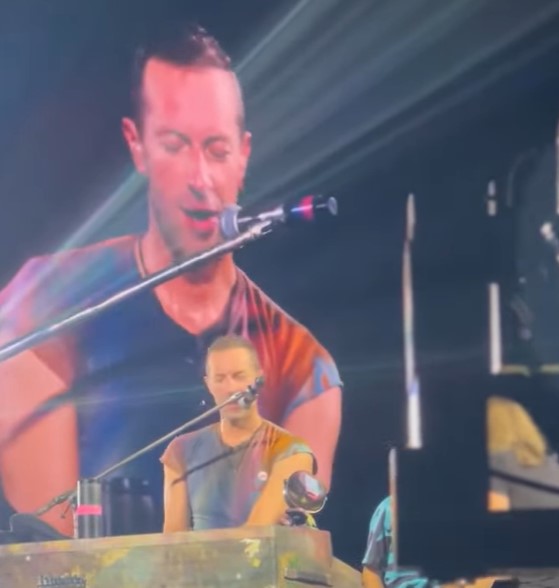 The warmth in Martin's voice as he sent well-wishes to Leo's sisters and expressed hope for future reunions was palpable.
It's a thrilling example of the power music has to forge connections, even if for a brief moment in time.
As the song drew to a close, the sentiment was clear.
Amidst the vast universe of musical experiences, Leo had chosen this one.
And in doing so, he had not only made his day memorable but had also touched the hearts of thousands in attendance.
The thunderous applause that followed was a sincere expression of the love that had filled the arena.
This was a magical moment in time that would never occur again, and everyone seemed thankful to be a part of it.
In an era where performances are often meticulously planned, this impromptu ode to Leo stood out.
See Leo's special birthday serenade from Cold Play's Chris Martin unfold in the video below!
Please SHARE this with your friends and family.