Ah, the basketball halftime show—a delightful interlude that turns the court into a stage for all sorts of talents to shine.
Whether it's singers belting out tunes, dancers moving in perfect synchrony, the school band, there's something for everyone.
But the real showstoppers are often the cheerleaders, whose high-flying routines captivate everyone in the audience.
Now, imagine a halftime show that takes all those elements and adds a generous sprinkle of humor, so much so that you find yourself laughing uncontrollably.
That's exactly what happened during an unforgettable performance by a cheerleading squad that took the concept of "entertainment" to a whole new level.
This wasn't your run-of-the-mill, high-kicking, pom-pom-waving spectacle.
Oh no, this was something else entirely—a performance so
hilarious it had the crowd screaming and cheering incredibly loud.
It all starts with a group of cheerleaders strutting onto the court, decked out in the most colorful and flamboyant uniforms you've ever seen, complete with those iconic, twirl-ready skirts.
The emcee amps up the excitement, grabbing the mic to declare, "This is without a doubt, the best performance you will ever see! Go for it guys!"
Wait, did he just say "guys"?
Yes, indeed, he did!
The setting was a 'Student versus Staff' basketball game at Carroll Senior High School.
A group of high school guys, not your typical cheerleaders by any stretch, seized the spotlight and delivered a halftime show that will likely go down in school history.
And the cherry on top?
The entire hilarious routine was caught on camera, racking up a staggering 5 million views online.
Ladies and gentlemen, allow me to introduce you to the one and only Boys Powderpuff gang!
Named in a cheeky nod to the beloved American animated series "The Powerpuff Girls," this group of guys may not have the same vibrant hues as Blossom, Bubbles, and Buttercup, but they've got entertainment down to a fine art.
But one thing's for sure: they kicked off their act with a bang, grooving to Michael Jackson's iconic hit, "Thriller."
The crowd's reaction?
Pure, unadulterated pandemonium.
From the moment the first guy made his entrance, striding confidently onto the court, you could feel the atmosphere crackle with anticipation.
It was as if the air itself was buzzing, signaling that something monumental was about to happen.
And boy, did it ever!
The rest of the gang joined in, zombie-walking their way into the routine.
It was like a scene straight out of a zombie comedy flick, and they were so committed to their roles that you'd think they were auditioning for Hollywood.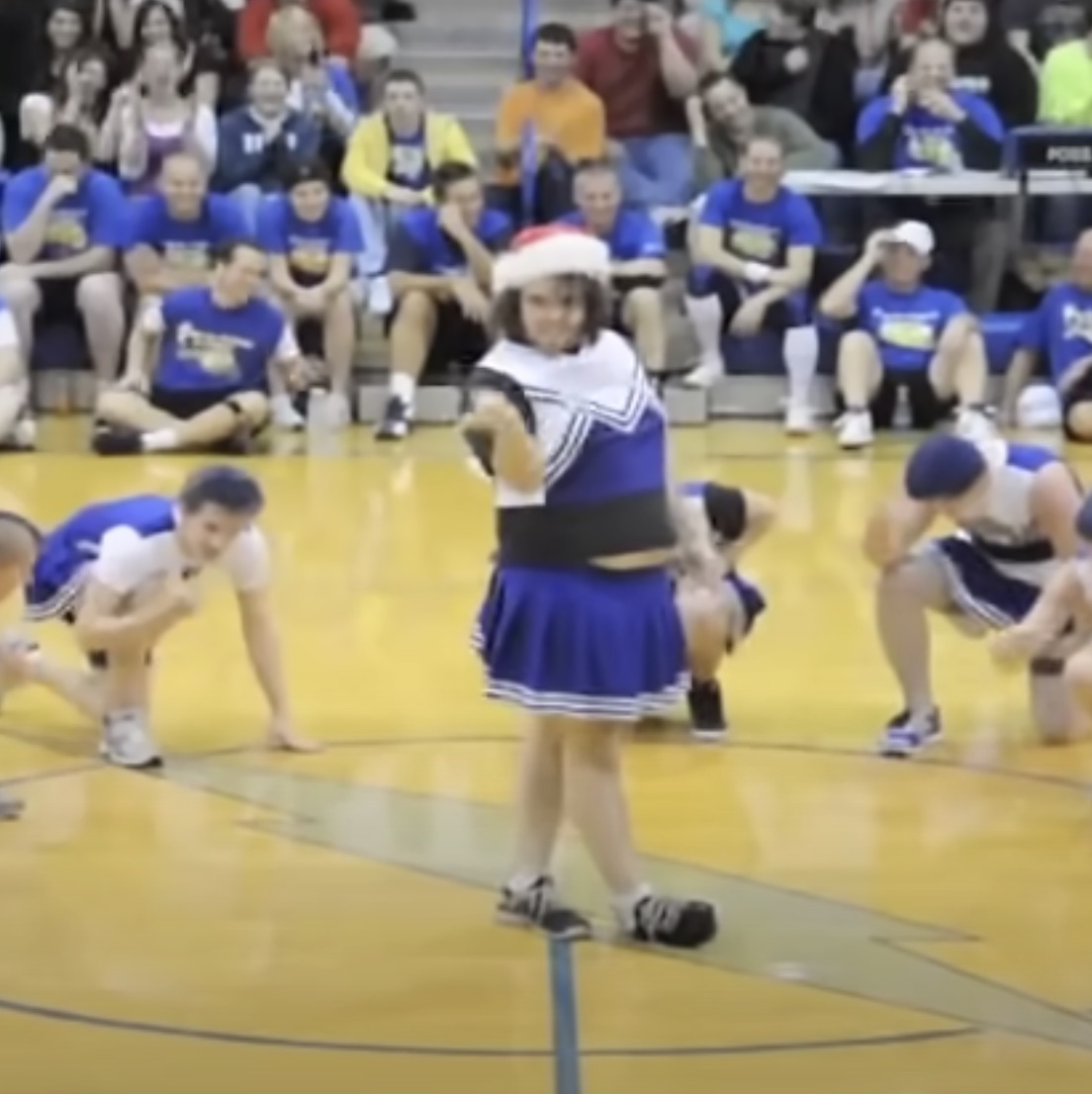 But how do you take a song like Lady Gaga's "Bad Romance" and turn it into something even more fabulous?
Leave it to these guys.
They executed every move with flair, adding their own comedic twist that left the audience howling with laughter.
If the school had a traditional cheerleading squad, they'd probably be quaking in their boots, knowing that topping this performance would require endless hours of practice.
The guys really gave it their all donning their skirts and everything, which only added to the humor.
Just when you thought they couldn't possibly add more layers to this comedic masterpiece, they switched gears and swayed to the sweet strains of Taylor Swift's "You Belong With Me."
Their movements were exaggeratedly shy and awkward, perfectly capturing the essence of teenage angst.
And the humor didn't stop there.
They even managed to weave in Kanye West's infamous interruption of Taylor Swift during an award ceremony, sending the crowd into another fit of laughter.
The gym was practically shaking from the collective guffaws and applause.
And for the grand finale?
A spectacular rendition of Beyoncé's "Single Ladies," complete with all the sass and attitude you could ever hope for.
These guys were a veritable Swiss Army knife of entertainment, effortlessly switching between modern pop, country, ballet, and even interpretative dance, all while keeping the comedy flowing.
It's been a decade since this legendary video first graced the internet, and it's safe to say that the boys Powderpuff gang, as well as everyone who's watched their performance, will be reminiscing and laughing about it for many more years to come.
In fact, this may in fact be a core memory for the group of guys.
Watch the video below and be prepared to laugh out loud.
Please SHARE this with your friends and family.
Article Sources:
Davidsondavidson99 – YouTube