Life's stressful.
That's especially true when you're in the military. The high stakes of the job can be difficult to deal with.
Breaks are essential.
Taking advantage of the little downtimes throughout the day can keep you fresh for whatever life throws your way.
Not everything's sunshine and rainbows, especially when your life's on the line!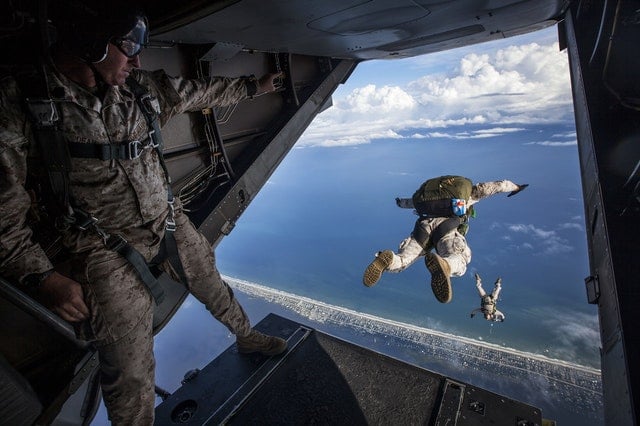 All work and no play can ruin your day! Speaking of which, have you ever seen The Shining?
Seriously, everyone needs a break to keep going.
Some people turn to music to get them through dark and down times.
By the way, have you heard of Mr Eazi?
Well, he's a popular Nigerian songwriter that's at the forefront of the Bandu genre.
His sound's sweeping the globe.
Banku music is a modern fusion of Ghanaian and Nigerian styles.
Evidently, Mr Eazi's hard-hitting style's popular around the globe.
His music even made its way through the loudspeakers of two handsome American soldiers.
They have a rather worldly musical palette and some killer moves, to boot!
These soldiers love the song Mr Eazi's song "AWKAABA." How do we know?
Well, they're dancing to it!
Soldiering isn't easy. It's a stressful life, especially when you're in harm's way.
What's the best thing to do when you're stressed out of your living mind?
Dance, of course!
Then what? Dance some more!
Mr Eazi's opus keeps the pace.
They legitimately look like they're having a blast!
The soldiers stay in step with perfect precision!
Mr Eazi's big beats bop in the background.
The soldier in the back, presumably their friend, is completely unphased by the performance.
He's seen this countless times before.
Honestly, he might just be jealous. He should get out there and join them! Maybe he's not a good dancer…
His friends are having enough fun for three people, anyway.
Prepare to have your mind further blown. These aren't your average soldiers!
The duo vacates the center of the dancefloor…
Then, our esteemed soldier-dancers take turns with a solo!
The first soldier starts with a flurry of frantic choreography.
His fleet feet are on fire!
"AKWAABA" continues to the duo's delight. These beats are fresher than new produce!
The second soldier steps to the center. What's he got? Will he bring it like his friend?
He's ready to show off his stuff!
Mr Eazi would be proud. These soldiers clearly love his music! Now, the whole world can see their tribute.
Their dance video pays the ultimate respect to "AKWAABA."
After some killer choreography, the second soldier bunny-hops off stage, sporting a smile from ear to ear.
What a blast!
So what do you think of this dynamic duo's dynamite dancing? They could do this all day!
I heard their fellow soldiers are jealous of their seriously smooth moves. That one guy definitely was!
If you want to learn the steps to Mr Eazi's "AKWAABA," check out Chop Daily's dance tutorial.
And before you go, make sure you check out the soldiers' entire performance in the video below!
When life gave them free time, they knew exactly what to do!
Please SHARE this with your friends and family.
Blake Hyatt is a contributor at SBLY Media.